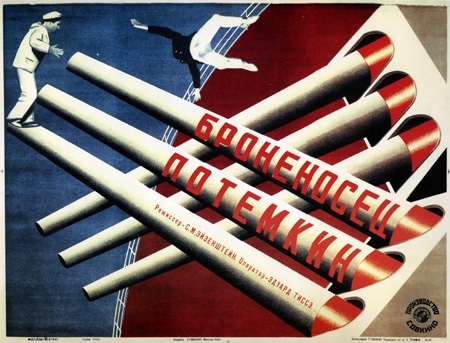 Considered one of the most important films in the history of silent pictures, as well as possibly Eisenstein's greatest work, Battleship Potemkin brought Eisenstein's theories of cinema art to the world in a powerful showcase;his emphasis on montage, his stress of intellectual contact, and his treatment of the mass instead of the individual as the protagonist.
The film tells the story of the mutiny on the Russian ship Prince Potemkin during the 1905 uprising.
Director: Sergei M. Eisenstein
, Grigori Aleksandrov
Producer: Jacob Bliokh
Production Company: Goskino
Actors: Alexander Antonov , Vladimir Barsky , Grigori Aleksandrov , Ivan Bobrov, Mikhail Gomory , Andrei Fait , Vladimir Ural
Awards :
1926 . - Gold Medal at the International Exhibition of Decorative Arts in Paris (Sergei Eisenstein).
1926 . - Prize for best film of the year the American Academy of Motion Picture Arts ( Sergei Eisenstein ) .
Film Battleship Potemkin
you can watch
here.
Creative Commons license: Public Domain