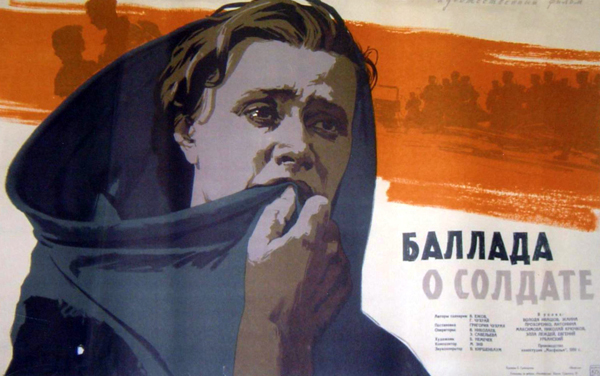 Director: Grigoriy Chukhray
Writers: Grigoriy Chukhray, Valentin Ezhov
Stars: Vladimir Ivashov, Zhanna Prokhorenko, Antonina Maksimova
Awards
* 1960 Cannes Film Festival - Special jury prize
* Bucharest Film Festival, 1960 - Golden Wolf for Best Film
* 5th San Francisco International Film Festival, 1960 - Golden Gate Award for Best Film and Golden Gate Award for Best Director
* BAFTA Award for Best Film from any Source, 1961
* Bodil Awards for Best European Film, 1961
* Nominated for Academy Award for Writing Original Screenplay, 1961 - Grigori Chukhrai, Valentin Yezhov
Most of the Soviet filmmakers who pioneered the cinema during the 1920s – such as Pudovkin, Kuleshov, Eisenstein – were, for various reasons, largely inactive after WWII. The Soviet people lived under conditions of wartime stringency well into the 1950s. During this time, Party leaders exercised political repressions that led to captured soldiers, refugees, religious believers, and political prisoners filling the labor camps. After Stalin's death in 1953, Nikita Khrushchev took over the leadership of the Soviet state. He attacked Stalin's dictatorial policies and denounced everything that glorified the 'cult of personality' he promoted. In the course of five years – a period that has become known as the 'Thaw,' from 1953 to 1958 – the party undertook numerous reforms, such as freeing thousands of prisoners from the labor camps and investing government funds into education and research. These reforms also affected the film industry, which had been, up until then, under the strict censorship control by the policy of Social Realism. The latter policy required artists to produce art that glorified the party leaders' heroism, as well as the patriotism of the common man.
As a result of these changes, some of the most significant and innovative Soviet films were produced in this decade – films that presented a humane side of WWII and its effect on people living through the most incredible hardships. Ballad of a Soldier
, directed by Grigori Chukhrai, is one such film. Devoid of Communist preaching, the film's opening scene informs us that we are going to learn a story of a Russian soldier, a fine man who was one of many who died in the war. That soldier is 19-year old Alyosha (Vladimir Ivashov), who came from a small village where the one main road will take you everywhere. It was on that road Alyosha and his mother (Antonina Maksimova) gave each other their last embrace. Since Chukhrai has opened the film by telling us that Alyosha eventually didn't come back from the war, their farewell meeting becomes particularly poignant to watch. ...