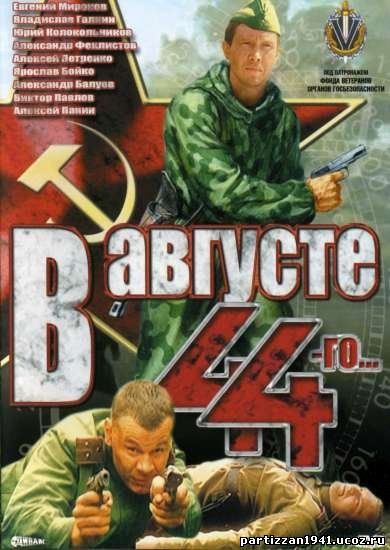 Director Mikhail Ptashuk
Cast: Vladislav Galkin, Yury Kolokolnikov, Evgeny Mironov, Karolina Grushka, Sergey Kravets, Aleksandr Labush, Ivan Leshuk, Rodoslav Pazura, Aleksey Petrenko, Andzhey Pechinski, Konstantin Solovjev, Beata Tyshkevich,
Awards: 2 wins and 4 nominations.
Mikhail Ptashuk's August 1944 (2000) portrayed the work of Soviet intelligence agents intercepting radio transmissions from the enemy partisan group "Nemon" in the western territories, which had just been liberated by the Red Army. A team of four officers avert a military raid on the territory, ignoring orders from headquarters and risking their lives in the process.
...
And
here
.