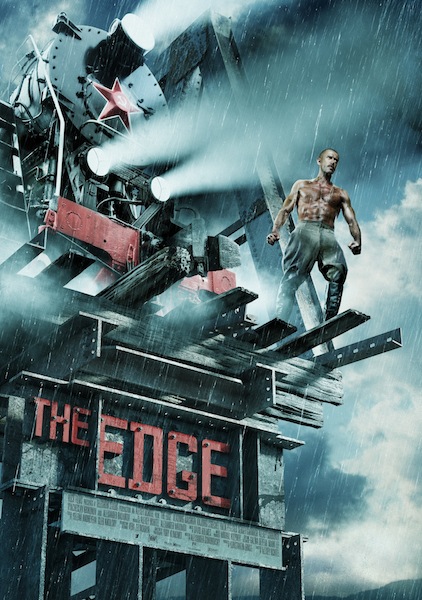 Director: Aleksei Uchitel
Writers: Aleksandr Gonorovsky (story), Aleksandr Gonorovsky
Stars: Sergey Garmash, Aleksei Gorbunov, Vyacheslav Krikunov
The arrival of a decorated war hero takes a Siberian labour camp by storm. After assuming control of the region's only steam engine, he sets out to find a ghost engine on a nearby island populated by an undead girl with a railway obsession.
Alexei Uchitel is one of the most notable contemporary Russian film directors. A gifted possessor of numerous cinema awards, he continues doing wonders on screen, which unmistakably appeal to lovers of high-grade drama films.
Alexei Uchitel was born on August 30, 1951 in Leninrgad (St.-Petersburg). In 1975 he graduated from VGIK (All-Union State Institute of Cinematography). Later he works at the Leningrad Studio of Documentary Films and at Lenfilm Studio. In 1990 he founded his own studio 'Rock'. He is the laureate of numerous international cinema festivals and Russia's Honored Art Worker. His films develop the tradition of Russian documentary cinema, one of the creators of which was his father Yefim Uchitel, outstanding film director and People's Artist of the USSR (His documentary 'Leningrad in Struggle' (1942) is known all over the world).
The documentaries by Alexei Uchitel transcend the limits of conventional perception of nonfiction cinema. He has always been most interested in creation of a vivid composition of images rather than in mere reflection of facts. In his famous film 'Rock' he does not simply film chapters on musicians but tells stories highlighting their personalities. The focus of attention is on the intimate inner world, the 'kitchen' realm where music and lyrics take birth. As a result there appears an original and fascinating film, recreating the atmosphere of the creativity of those people and other characters of the Perestroika epoch. These were the first experiments in using poetic metaphors in documentaries instead of matter-of-fact narration. This approach obviously predetermined Uchitel's transition to feature films.
He never fails to elaborate the image composition, find surprising montage solutions and experiment with sound. The veracity of documentary and the fancy of fiction interweave in his works generating inimitable atmosphere.
He made his debut in full-length feature cinema in 1995 with 'Mania Zhizeli' (Giselle's Mania) telling the story of vertiginous career and life drama of the great Russian ballerina of the 20th century Olga Spesivtseva, nicknamed 'Red Giselle' by her contemporaries. ...
Uchitel's works as film-director: 2005 - 'Kosmos Kak Predchuvstvie', aka Dreaming of Space (feature film) 2003 - Progulka, aka The Stroll (feature film) 2000 - Dnevnik Ego Zheny, aka His Wife's Diary (documentary feature film) 1997 - 'Elite' (documentary feature film) 1996 - 'Mania Zhizeli', aka Giselle's Mania (feature film) 1993 - 'Butterfly' (documentary feature film)Works by Uchitel at the Leningrad Studio of Documentary Films: 'Obvodny Kanal'(documentary feature film) 1988 - 'Rock' (documentary feature film) 1986 - Planet Natasha (documentary) 1983 - Aktsiya (documentary) 1983 - The Earth is Entrusted to You (documentary feature film) 1982 - "Who is for? (Three episodes on a contemporary theme) (documentary) 1980 - How many faces does the disco have? (documentary feature film) 1978 - Starting Up. Portrait of an Event. (documentary) ...
more