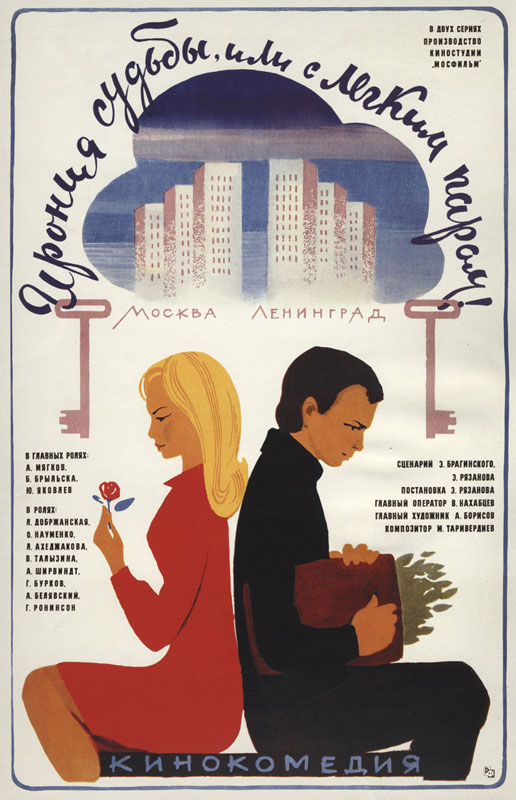 Director: Eldar Ryazanov
Writers: Emil Braginskiy, Eldar Ryazanov
Stars: Andrey Myagkov, Barbara Brylska, Yuriy Yakovlev
A group of old friends have a tradition of going to a public bathing house on New Years eve. Occasionally too much vodka and beer makes two of them unconscious.
...

New Year's Eve in Russia can be a stressful day. Cooks are hoping not to be hit by a power cut just as they put the pies in the oven as the electricity grid is overwhelmed with demand. Young people are wondering how to manage both to please their families and get to central Moscow in time for the street parties. Businessmen are feverishly trying to remember whether they have confused their presents for their long-suffering wives with those for their 18-year-old girlfriends. The president is getting ready to persuade the people in his New Year's speech that the dawning year will be at least a little bit better than the one that is finishing.
The film's plot is this: it is New Year's Eve in 1970s Moscow. The protagonist, Zhenya Lukashin, a 30-something doctor who lives with and obeys his mother (a completely normal situation in Russia) is for the first time preparing to celebrate the New Year with his fiancée, a bossy and possessive young woman. The doctor is shy and scared of commitment, but it seems that now he is finally about to tie the knot.
However, he has other obligations, too. Every year his friends and he go to the banya (steam-bath) together. This is a tradition he cannot break, not even for his fiancée.
>>>