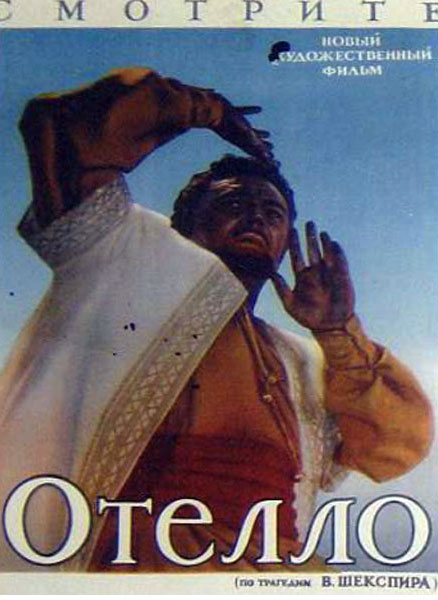 Director: Sergei Yutkevich
Writers:William Shakespeare (play), Sergei Yutkevich
Stars:Sergei Bondarchuk, Irina Skobtseva and Andrei Popov
Best Director,Cannes Film Festival 1956 Sergei Yutkevich
"Othello" proved to be a major coup for Soviet cinema: Yutkevich won the Best Director Award at the 1956 Cannes Film Festival and the film was nominated for the Palme d'Or. (Welles' "Othello" tied for Cannes' Grand Prize four years earlier.) It was widely seen throughout Europe, but it did not turn up in the U.S. until 1960, when Universal-International acquired the theatrical rights. Sadly, the distributor put the film into release with a shoddy English-dubbed soundtrack. A.H. Weiler, reviewing "Othello" for the New York Times, praised the visual elements of the work as offering "a most beautiful, literally colorful and motion-filled version of the tragedy that dwarfs any 'Othello' constricted by the confines of stage and proscenium arch," but panned the "nagging and persistent distraction in the dubbed-in English dialogue that often emerges unsynchronized to the lip movements of its principals."
Read more
here
.
IN transporting "Othello" to the screen both the Russian producers and the American distributors have epitomized the historic indecision of Hamlet's classic query, "To be or not to be?"
As unveiled last night at the Fifty-fifth Street Playhouse as the latest offering in the United States-Soviet Union cultural-exchange program, it is, beyond a doubt, a most beautiful, literally colorful and motion-filled version of the tragedy that dwarfs any "Othello" constricted by the confines of stage and proscenium arch. Simultaneously, it presents a nagging and persistent distraction in the dubbed-in English dialogue that often emerges unsynchronized to the lip movements of its principals.
Of course, the case for or against dubbing has not yet, or perhaps never will be, decided. It is plausible, however, to expect that the sonorous and trenchant dialogue of "Othello" might have had as much impact, if not more, in Russian with English subtitles taken from the Shakepearean text than the somewhat disjointed application we have here. Notable French, Italian and German films, as well as operas, have been subtitled and exhibited here without loss of feeling or, equally important, the flavor of the original languages.
The English performers, whose voices are heard, strangely enough, are excellent. These are players who obviously felt, appreciated and dedicatedly delivered lines that reverberate with passion and intrigue. Similarly, the Russian principals are polished professionals of stature devoted to the speeches and intent of the Bard. But it is disturbing in the extreme to see the lips of Othello forming words of anger or remorse while the sounds, unlike the movements, emanate in different fashion and at greater length. Russian and English, it becomes quite obvious, are distinctly disparate.
It is eminently clear from the outset that Sergei Yutkevich, the director-scenarist, is no newcomer to his subject. As an obviously profound student of the drama, his Othello is not a man driven by Freudian doubts and indecisions but is an honorable warrior-statesman, middle-aged and therefore extremely jealous of the love he bears his beautiful young wife.
As such, the plot is played straight Iago, a man charged with jealousy and hate for not having attained what he thinks is his reward for dutiful allegiance, is also driven to devious but bloody revenge. And, Desdemona, is, as Shakespeare had it, a devoted beauty too naïve to use machinations to save herself from the awful dilemma in which she is placed.
As the man who "loved not wisely but too well," Sergei Bondarchuk is an imposing Othello, a Moor whose hair is graying but one who is virile enough to declare his love and, at the same time, be a tormented soul driven to distraction by a designing Iago. His is a curiously restrained but majestic performance that, despite the confusions of superimposed English dialogue, shines with artistry and understanding.
The Iago of Andrei Popov is, on the other hand, a blatantly malevolent and tortured performance and one that, on occasion, is transparently hammy. Irina Skobtseva is both wholesome and decorative as the blonde Desdemona, who is the ill-fated victim of her husband's torment and Iago's intrigue.
Vladimir Soshalsky is properly confused and juvenile as Othello's lieutenant, Cassio, caught and destroyed by the devious designs of Iago. A. Maximova, as Iago's handsome wife, who is shocked by her husband's treachery, and E. Teterin, E. Vesnik and a host of perceptive supporting players make commendable contributions to the burgeoning drama that stands with "Hamlet," "King Lear" and "Macbeth" among Shakespeare's best.
In most cases, one must bring a foreknowledge of "Othello" to the theatre but here, however, the director and his cast offer an elucidating, kaleidoscopic preamble that illustrates the embattled Othello's victories at sea, events in Venice and his marriage.
Although it was filmed in 1955, the color cameras of E. Andrikanis, the eye-catching costumes of O. Kruchinina and the effectively medieval background music of Aram Khatchaturian, reportedly heard here for the first time, make this effort strikingly effective. And, bustling vignettes of a Venice piazza and shots of a wave-lapped Cyprus shore dotted with Greek columns and old anchors half buried in the sand add to the physical attributes of an obviously well-planned production.
...