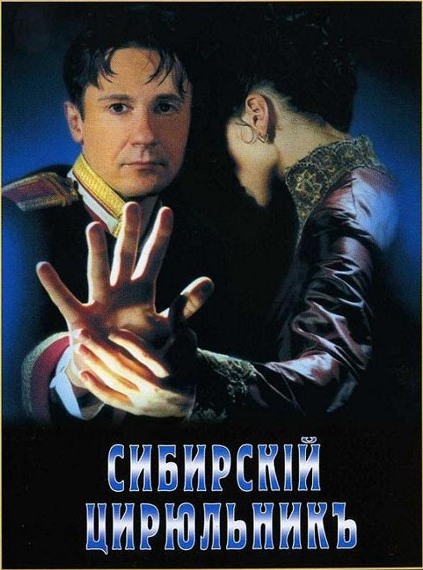 Director:Nikita Mikhalkov
Writers:Nikita Mikhalkov (story), Rustam Ibragimbekov (screenplay),
Stars:Julia Ormond, Richard Harris, Oleg Menshikov
For two decades Nikita Mikhalkov, born into a family of the Soviet cultural elite, has been the most famous of Russian film directors both in his own country and abroad. Mikhalkov's celebrity status - consolidated in December 1997 when he became chairman of the Russian Union of Film-makers - has turned the release of his recent films into major media events in Russia, none more so than The Barber of Siberia. By the time of its premiere in the Kremlin Palace of Congresses in February 1999 the film had already generated acres of newsprint, as much because of its enormous budget (reported as $45 million) and its link to Mikhalkov's alleged desire to be president of Russia as for its epic proportions and ambitions. Here was a film that would restore national self-esteem and re-invigorate cinemagoing in Mikhalkov's native land, as well as explain the enigmas of Russian identity to expectant western audiences, perhaps even picking up the Academy Award for Best Foreign Language Film on the way.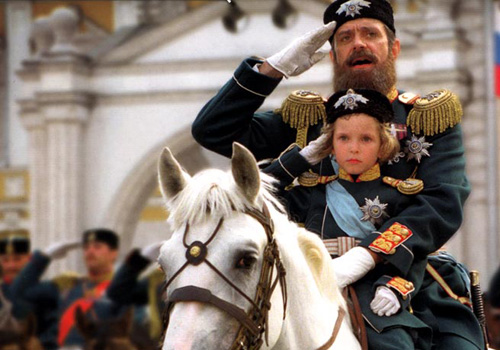 In Russia the film did attract huge and satisfied audiences, though the critical reception was mixed, if not cool. But its Cannes showing last year was a fiasco, and it subsequently failed to impress the Oscar voters. With this damaged reputation The Barber of Siberia limps belatedly into the UK.
It would be wrong to look to The Barber of Siberia for historical authenticity or cultural specificity - the film, in Mikhalkov's own words, is "not about how things were but about how things should be." So we are served a mythological stew, a souvenir Russia made up of vast birch forests and famous Moscow landmarks, epic drinking, fatal passion and doomed love leading to duel, scandal and exile in the Siberian snow. In what seems like a concession to ignorant western audiences, the hero is given a famous Russian name, Tolstoy, but to make them feel at ease this Tolstoy admits he couldn't make it to the end of Anna Karenina. Perhaps some western viewers will be satisfied with this reading of Russia, but its greatest appeal is surely to Russian audiences so exhausted by their recent tribulations that they will embrace any lazy reiteration of warmed-over cliché without pausing to wonder why the young officers to whom the film is dedicated are so childish and their mentor is a drunk. Western audiences may balk, however, at being represented only by rogues, or by Sergeant 'Mad Dog' O'Leary, who thinks Mozart is a girl, and a Russian one at that.
The film's aspirations to represent the relationship between Russia and the US in symbolic form are not supported by any psychological acuity in the characterisation. The bigger the role, the more the actor flounders. Julia Ormond is too bland to convey either the scheming or the bitter regrets of Jane Callahan. Oleg Menshikov, meanwhile, an actor of great range and emotional subtlety, has been badly cast in the role of Tolstoy; pushing 40 when he made the film, he is reduced to rehearsing the pert mannerisms of an ingénu. After his embarrassing declaration to Jane in the presence of Radlov, he asks "May I be excused?", which is likely only to provoke inappropriate memories of the classroom among British audiences. The best acting comes in the cameo roles, from Marina Neelova as Tolstoy's actress mother and Elizabeth Spriggs as the countess Perepyolkina.
The exiguous and predictable plot is fleshed out by a number of grandly staged set pieces, including a ball, Russian Shrovetide celebrations, a parade before Tzsar Alexander III (played by the director himself), the production of the opera, the depredations of McCracken's monstrous machine. You can, at least, see where the money has gone. The film concludes with a sly double ending, happy for western audiences - young Andrew wins his battle over Mozart, whom he refuses to defame at his military camp - and tragic for Russians, just the way they like it: his parents are not reunited. On the way it tries first to make us laugh, then, less successfully, to make us cry through a slew of novelistic clichés. Occasionally, the film comes alive - Menshikov playing Figaro in a production of The Marriage of Figaro finally casts off the strait-jacket of having to play a much younger character; his assault on Radlov is also one of the film's most powerful scenes.
Mikhalkov's finest films Unfinished Piece for Mechanical Piano, Five Evenings and Urga demonstrate that he is best at the small scale, at the delicate rendering of intense human emotion. His old-fashioned and seemingly interminable Barber discards these qualities as insouciantly as McCracken despoils the Siberian forest. What remains seems ill suited as a model, either for Russian society or for Russian cinema.
...