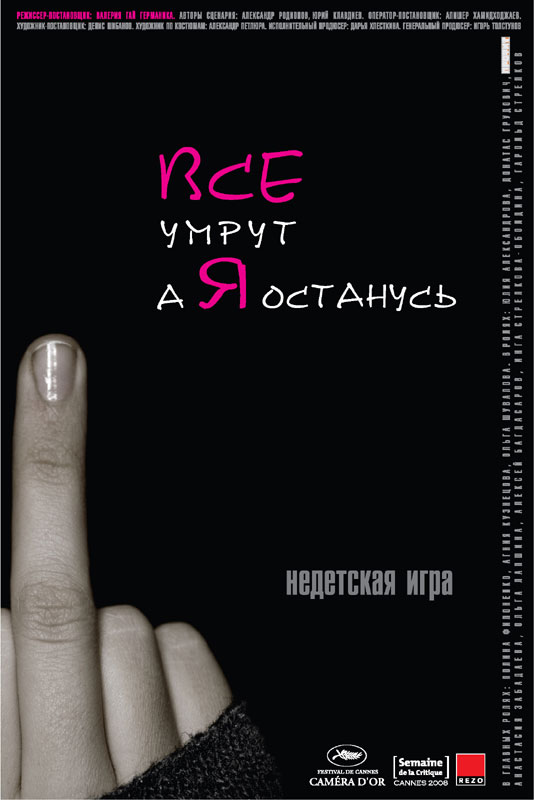 Director: Valeriya Gay Germanika
Writers: Yuriy Klavdiev (screenplay), Aleksandr Rodionov (screenplay)
Stars: Polina Filonenko, Agniya Kuznetsova, Olga Shuvalova
Awards
2 wins plus
Nika Award
"Everybody dies but me" is an ordinary children's statement of confidence and consolation. There is no death. Rather, it is there, of course, but I shall never die. Perhaps someone else will die, maybe. Even for sure, people die. Both close people—grandmothers and grandfathers, parents, brothers and sisters, and people in the street and in the metro. Probably everyone will sometime die. But this does not concern me. Everyone will die. But I shall stay.
Actually, the process of growing up involves, among other things, the understanding that life is finite. Thus the title of Valeriia Gai-Germanika's film is in some sense a universal formula of a childhood that has yet not ended, but is already doomed by the first knowledge of death.
However, the issue of the title is not all that simple. It is certainly challenging and provocative. The film had the working title "KVZh" (the names of the three heroines, Katia, Vika and Zhanna); and another working title was "Three Girls". I like the final version, but my mind returns here to the legendary Soviet "school" film made exactly forty years ago, which could have prompted something, or most likely did, in the young Gai-Germanika. Even if only the spread of the action. Stanislav Rostotskii's We'll live until Monday (Dozhivem do ponedel'nika, 1968)—an important cult film for the understanding of the late Thaw and early Stagnation era, the time when tanks rolled in the streets of Prague and when the fight against any non-official ideas erupted again—was full of expectation. Even the title suggested some usual school days— in expectation of Monday. Gai-Germanika also shows some usual school days—until Saturday when an event of universal school scale will take place: the first disco of the academic year. ...
Reviewed by Aleksandr Kolbovskii© 2008 in
KinoKultura