Director: Vladimir Khotinenko
Cast: Evgeny Mironov, Chulpan Khamatova Alla Yuganova, Dmitry Pevtsov, Irina Rozanov, Valentine Talyzina, Alexander Domogarov, Daria Moroz, Elizabeth Arzamasova, Vladimir Simonov, Olga Smirnova, Alexander Samoilenko, Paul Barshak, Ekaterina Vilkova
Dostoevsky is a 2010 8 episode mini-series made for Russian television from director Vladimir Khotinenko
The whole world venerates Dostoyevsky, and the prophet has now been honoured in his own land again. That is, if you call the eight-part, big-budget, primetime, nationally televised biography that concluded last night on Rossiya-1 an honour – which I would. Here's why.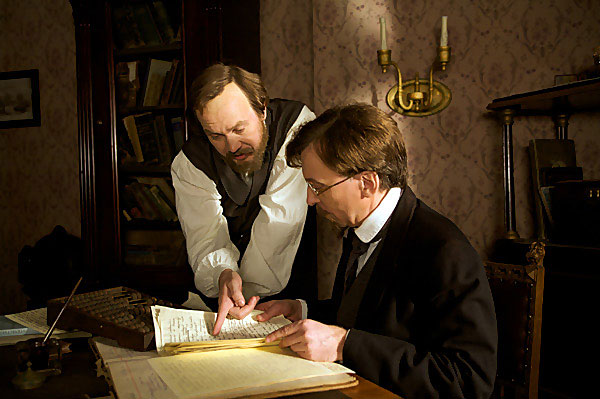 The lynchpin of a project like this is, obviously, the actor playing Fyodor Mikhailovich: if he can bring it off – that is, capture the essence of an enormously complex and troubled soul whom the entire viewing audience knows intimately (or thinks it does) – then the whole production will be counted a success. If this actor falters, conversely, nothing and no one else can save it.
The big-stakes role here went to Yevgeny Mironov, an excellent choice. First, he is arguably the actor of his generation, a performer whose versatility and craftsmanship make him the post-Soviet Innokenty Smoktunovsky – or as close to such as we're likely to get. Mironov has done Gogol, Solzhenitsyn and pop-blockbusters with equal facility; even more promisingly, he'd already done a fine Dostoyevsky turn on the small screen, as Prince Myshkin in the excellent 2003 serialisation of The Idiot.
For that TV production Mironov enjoyed a comparative advantage he lacked in this Dostoyevsky: the image of Myshkin most viewers then carried was that of Yury Yakovlev in the 1959 film version – a modestly successful struggle against mis-casting (and light-years behind Smoktunovsky's famous stage version). Heading into a biographical account of Dostoyevsky, the same viewers harboured a different and far more imposing image: Anatoly Solonitsyn as the writer in Alexander Zarkhi's 1980 Twenty-six Days in the Life of Dostoyevsky.
How good was Solonitsyn in capturing Fyodor Mikhailovich? As one anxious pre-broadcast speculator put it, "I'm afraid I'll be disappointed [with Dostoyevsky]. I remember Zarkhi's 26 Days very well, and Anatoly Solonitsyn's performance was pure genius." No argument there – and no question that Mironov also knew that performance well. It took a special kind of self-assurance, which Mironov clearly has, not to be intimidated by it.
And he wasn't. Mironov took Eduard Volodarsky's script and Vladimir Khotinenko's direction and created an impressively original Dostoyevsky, a version of the writer we haven't seen – or indeed contemplated – before. As intense in his affections as he is in his convictions, this energised Dostoyevsky strides well outside the dark-toned schoolbook mini-biographies today's rising generation has been raised on. Mironov made the icon breathe. And passionately.
Also facing a serious image-overcoming task in Dostoyevsky was Alla Yuganova as Anna Snitkina, the writer's second wife. The masterfully nuanced performance as Snitkina by Yevgenia Simonova in Twenty-six Days remains firmly fixed in millions of minds, including this one. But Yuganova went at it gamely, and if her innovations were not on the level of Mironov's, they were certainly enough to stake out a Snitkina you could believe and appreciate. And I did.
Director Khotinenko is known for skilful risk-taking: Mirror for a Hero (1987) was a painfully perceptive look into the recent Soviet past, and The Priest (2009) had the nerve to offer Russians multiple views of German occupation during World War II. In Dostoyevsky Khotinenko proved himself no less inclined to take "liberties" with established canons – and the final episodes showed just how far a newly-energised Fyodor Mikhailovich could go and remain the icon the world so wants to venerate.
Which he did. This series preserved a classic by reimagining him.
Can TV do anything better
?
Russian culture is traditionally very sensitive to anniversaries, even to those that in other countries probably would go unnoticed. This year marks the 190th anniversary of Fedor Dostoevskii's birth and the 130th of his death. The dates have inspired two biopics, one by Evgenii Tashkov that flopped on arrival; and Vladimir Khotinenko's mini-series Dostoevskii, commissioned by Rossiia 1 television channel and co-sponsored by the administration of St. Petersburg.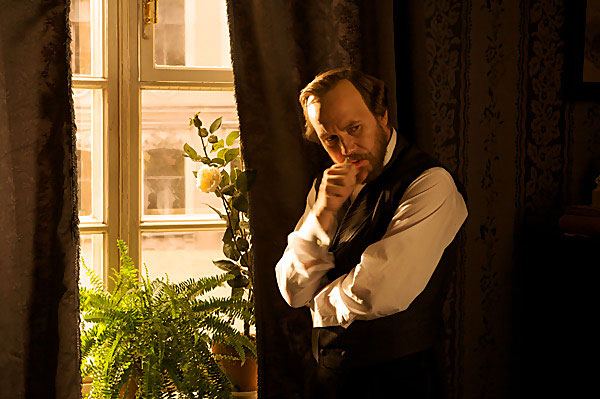 In scope and quality, Khotinenko's 7-part biopic can be compared to the best HBO and Showtime history dramas, such as John Adams (2008) and The Tudors (2007-2010). The craftsmanship demonstrated by the crew of Dostoevskii is superb throughout, including elaborate set designs, striving for authenticity (many episodes, including those in Western Europe, were shot at the original locations), sophisticated indoor lighting, and cinema-style editing, as well as an overall high caliber of acting. Despite the fact that TV audiences are typically treated with less regard than moviegoers, it is clear that Khotinenko did not compromise on quality and was motivated by more than just professional standards or ratings: his awe for his subject is implicit in every aspect of this film.
Dostoevskii does not cover the writer's entire life but reconstructs the major episodes of a thirty-year period extending from his 1849 mock execution to the beginning of writing The Brothers Karamazov in 1878. Eduard Volodarskii's screenplay combines well-known events with episodes that are far more obscure. One such episode is the infatuation of 13-year old Sof'ia Korvin-Krukovskaia (who later became famous under her married name Kovalevskaia as Russia's first female mathematician) with the writer, who was courting her older sister at the time. Save a few minor exceptions, all of these lesser known events have been historically documented. The main strength of the screenplay is its ability to mould genuine, recognizable characters who convincingly represent various milieus and convey essential conflicts. Thus the superb ensemble of performers was able to work with solid if not brilliant writing, and the result is highly presentable. It is safe to say that the filmmakers have captured major aspects of Dostoevskii's biography, and only nitpickers can fault them for slight deviations from established facts. Indeed, the loyalty toward documented events comes at a price: a viewer unfamiliar with Dostoevskii's life—and their number is increasing thanks to the ill-fated reformation of Russia's educational system—might hardly make sense of certain plot turns. The most appreciative viewers of this film will likely be those who are intrigued by its subject and have heard about some of the tragic events of Dostoevskii's life but are eager to know more. At least with respect to historical atmosphere and psychological truth, they will be well served.
Reviewed by Peter Rollberg © 2011 in
KinoKultura