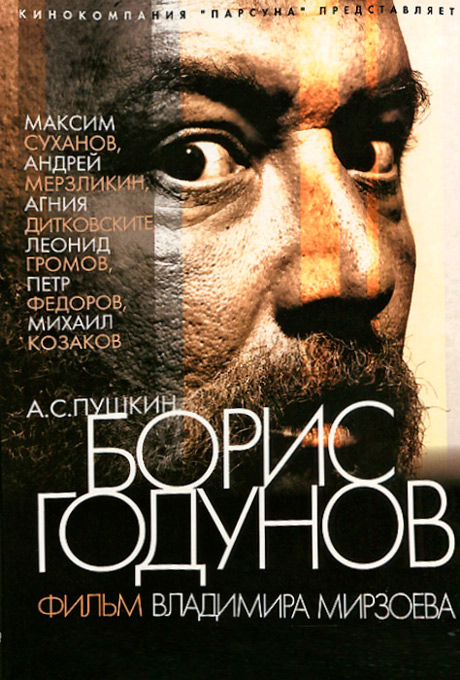 Director: Vladimir Mirzoev
Screenplay: Vladimir Mirzoev (based on the play by Aleksandr Pushkin)
Cast: Maksim Sukhanov, Mikhail Kozakov, Andrei Merzlikin, Leonid Gromov
Awards: Special Prize, "Annual Award of the Guild of Historians of Cinema and Film Critics," Russia, 2011

Selected in the following festivals
:
- International Film Festival Tarkovski, Ivanovo (Russia), 2012
- Russian film festival in Sweden 'KinoRiurik', Stockholm (Sweden), 2012
- Russian film symposium. University of Pittsburgh, Pittsburgh (USA), 2012
- Annual award of the Guild of Historians of Cinema and Film Critics, Moscow (Russia), 2011
- Cinéforum ''Automne de l'Amour'', Blagoveshchensk (Russia), 2011
- Window to Europe Film Festival, Vyborg, Vyborg (Russia), 2011
Dealing with classics always requires a delicate balancing act by a director, as it is one of the easiest and, at the same time, most challenging ways to draw attention and criticism. This is especially true if the title is "Boris Godunov," since the film cannot avoid comparisons to previous texts―Pushkin's drama and Musorgskii's opera―both staged hundreds of times―and Sergei Bondarchuk's film (1986), which became a Soviet classic.
Mirzoev's film, however, draws a clear distinction amongst these texts and traditions. He has brought the tragedy into a contemporary setting while retaining the original script. The film begins with scenes of modern details: political figures in business suits, Shuiskii talking in a Mercedes, Pushkin making an announcement on TV, and committee members meeting against the backdrop of glittering skyscrapers. Sometimes, though, the contemporary setting evokes anachronistic awkwardness, for example, an illiterate soldier reading text messages on an iphone. While such scenes produce discordant effects between the lines of the past and the modern setting, they also offer a new texture to the traditional text.
Indeed, this device in adapting classics began decades ago and the use of a contemporary setting has already become a cliché marker of the postmodern. What more can be done with classics that the audience knows by heart?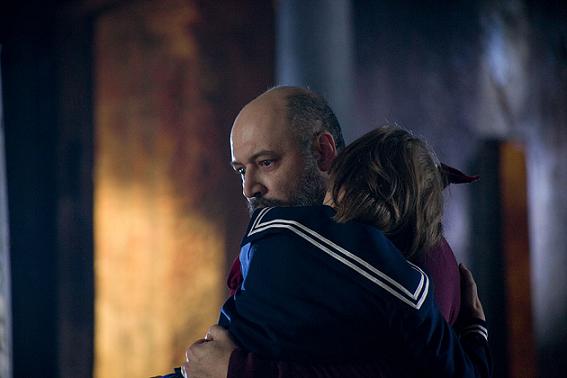 Yet Boris Godunov can be viewed from a different perspective. Pushkin's original play has been staged mostly in traditional costumes and in its historical setting. Mirzoev's film successfully manages a delicate balancing act, fully negotiating the boundary between past and present, making a significant impact on the history of adaptation―not only of Boris Godunov but of classics as a whole. It diverges completely from the adaptation style of Soviet films and recent television serials in Russia that reproduce the epic past with luxurious historical props or a sequence of plot clichés with elaborate or shocking stylization.
Many critics have interpreted the modern setting of Boris Godunov as a political satire, drawing parallels between the film and the current political situation in Russia. Dealing with plots of dictatorship and political intrigues, the film can be easily pigeon-holed as a parody. The director, however, strongly rejects any interpretation of his work as a satire or allegory. Moreover, Pushkin's original text had no intention to be a satire.
More
here
.