Director: Aleksandr Veledinsky
Writers: Igor Porublyov, Aleksandr Veledinsky
Stars: Olga Arntgolts, Aleksey Chadov,Andrey Chadov
Awards
:
Best Screenplay Open Russian Film Festival Kinotavr, Russia, 2006
Best directing Festival Russian kino 'Moscow Premier Screenings', Russia, 2006
Best Screenplay "NIKA" Prizes, Russia, 2006
Best Screenplay Aleksandr VELEDINSKY , Igor PORUBLEV , Annual award of the Guild of Historians of Cinema and Film Critics, Russia, 2006
Best Actor in a Supporting Role Vladimir EPIFANTSEV , Maksim LAGASHKIN , Annual award of the Guild of Historians of Cinema and Film Critics, Russia, 2006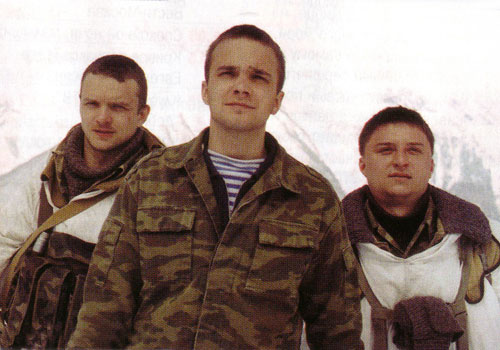 When discussing Alive in an interview, Aleksandr Veledinskii, an accomplished scriptwriter and television director who launched his full-length feature career with Russian (Russkoe, 2004), admitted that for him "the two films are similar in spirit" as cinematic studies in Russian national character; he even considered titling his second feature Russkoe-2. [2] Russian, based on Eduard Limonov's autobiographical fiction, told a post-Stalinist coming-of-age story, in which Edie (Andrei Chadov), a burgeoning poet from a working-class neighborhood in provincial Kharkov, negotiated his path to an authentic personal identity amidst widely diverging environmental stimuli, ranging from social conformity and criminality to transcendent creativity. If the poet-hooligan's spiritual alive-ness amidst the materialist(ic) culture of the late 1950s was an essential component of russkoe (Russian-ness), zhivoi's deeply felt personal responsibility before his ideal community of war comrades, Veledinskii suggests, should strike the viewer as inherently Russian in the otherwise spiritually stagnant atmosphere of Putin-era civilian mercantilism, emotional pragmatism, and moral complacency. Produced with partial support from the Federal Agency for Culture and Cinema, the film nevertheless challenges the official discourse about the Chechen war, pointing out its morally devastating impact on Russian society. In its pursuit of an alternate conception of patriotism and of a more participatory and responsible basis for national cohesion, the film manages to overcome some staples of the dominant cultural rhetoric that continues to employ war as the most effective trope for resolving society's pressing problems. In setting their probing examination of contemporary Russian society in the context of the Chechen war, however, the filmmaker and producer Sergei Chliiants (Petr Buslov's Bimer [Bumer, 2003] and Bimer 2 [2005], Veledinskii's Russian, and Kira Muratova's The Tuner [Nastroishchik, 2004]), fall prey to some of the most conventional aspects of the war master plot.
In Alive, the former Chechen-war contract soldier Kir (Andrei Chadov) returns to civilian life after losing his leg in battle. His encounter with the world outside the close-knit army brotherhood proves disappointing and traumatic: a major in charge of the veterans' post-war transition (Andrei Rapoport) not only makes profit off the injured soldiers and the families of those killed in action, but also evades his responsibility of personally honoring and counseling the relatives of the dead. In a fit of rage, Kir commits a samurai-like act, killing the corrupt major with a saber that he bought as a gift for an army friend who saved his life. Unable to break the sad news to the widow of his perished commander (a task previously relegated to him by the major), the inebriated and lonely Kir wanders into a rainy night. In what looks like a search for human contact, Kir tries to embrace some chance girls in an underground pass, for which he gets beaten by their male companion and is left lying on the cement floor.
The following night scene at a busy highway, in which Kir is hit and abandoned by a foreign-made SUV while hitching a ride, serves as an even more poignant metaphor for the returning veteran's painful head-on encounter with personal and institutional corruption, unashamed profiteering, and societal indifference to his physical and psychological trauma. It is significant that Kir addresses his desperate call for help in the surrounding nocturnal void to his loyal army comrades, patsany. This vocal appeal to the army brotherhood marks a transition to a somewhat altered reality: from now on Kir will be closely accompanied by his two guardian angels―that is, his deceased army friends, Igor' (Vladimir Epifantsev) and Nikich (Maksim Lagashkin), who lost their lives while saving his. Unbeknownst to Kir, these fallen warriors are not merely figments of his troubled imagination: they are spending with him the last two of the forty days allotted to their souls in the world of the living prior to appearing before a higher judgment. The fact that Kir―with the exception of drunks, children, and artists―is the only person who can see these fully armed and uniformed companions, makes the viewer question the protagonist's own status among the living on his resumed journey to his provincial home town.
Reviewed by Elena Monastireva-Ansdell© 2007 in
KinoKultura