Director: Aleksei Mizgiryov
Writer: Aleksei Mizgiryov (screenplay)
Stars: Oleg Vasilkov, Azamat Nigmanov, Dmitriy Kulichkov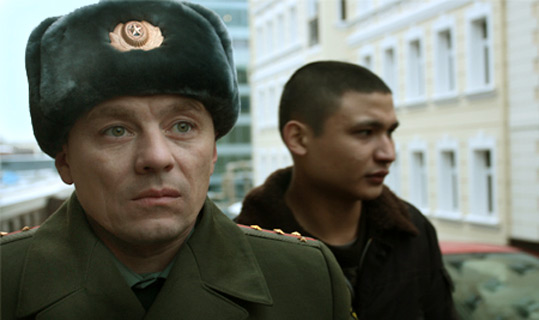 Awards :
Best actor Azamat NIGMANOV , Open Russian Film Festival Kinotavr, Russia, 2012
Best music Aleksandr MANOTSKOV , Open Russian Film Festival Kinotavr, Russia, 2012
In this hard-hitting, gritty portrait of the police and army in today's Russia, the traumatized Captain Ignat, played flawlessly by Oleg Vasilkov, is ordered to find some missing money and to bring back a deserter and hand him over to a military court. Ignat travels with a Sergeant who's looking to party during their 24 hours in Moscow. They find the deserter (Azamat Nigmanov), who uses humor to disguise his mortal fear of being handed over to the military. A Mafia boss looking for revenge sidetracks the trio briefly and they enter into a lair of violence. Captain Ignat is an uncompromisingly tough guy, but what is the reason for his sudden fainting spells? Part suspense drama and part crime story, The Convoy, produced by Pavel Lungin, digs deep into the psychology of a damaged human being whose journey across wintry Moscow is both a nightmare and a lesson in tolerance and forgiveness. In his third feature, socially minded director Alexey Mizgirev graphically portrays a world of power and subjugation that, in the final analysis, makes a profound statement about the perilous nature of rage.
...
According to the Army commander in Aleksei Mizgirev's third feature-length film, Convoy, everyone is "sick of disorderly conduct." Yet disorderly conduct is at the heart of the plotline of Convoy, defining its characters, the situations in which they find themselves and their conduct. In the film, Mizgirev explores human behavior in extreme situations, as well as the good and the bad hidden (or not so hidden) inside people.
Convoy tells the story of the psychologically troubled Army Captain Ignat as he struggles to cope with his increasing dislocation from reality. Following an altercation with some drunken men, Ignat finds himself in front of his commander, facing criminal charges. In order to keep Ignat out of trouble, the commander sends him to search for and return two deserters, who are hiding somewhere in Moscow with 19,000 rubles (US$ 700) of stolen government money. While the first deserter commits suicide after murdering a police officer, Ignat—together with the sergeant attached to help him—find the second deserter hiding in his mother's house. The process of returning the clownish deserter, Artem Tugaev, to the provincial base where they have come from, is hindered by the pull and negativity of Moscow. Ignat, the sergeant and Artem inadvertently become ensnared in the underside of Moscow life, witnessing the brutality of both the police and of the criminal underworld. Yet Ignat is plagued by migraines, which lead to hallucinations and blackouts, while also hinting at deeper psychological issues, which he is unwilling to face. Ignat's encounter with Artem brings about a fundamental change in his negative outlook on life and his inability to confront his physical and psychological pain. By the end of the film, Ignat has undergone a significant change in attitude, although it is too late for him to be able to help Artem.
Reviewed by Laura Todd © 2013 in
KinoKultura