Oleg Evgenyevich Menshikov was born on 8 November 1960 in the town of Serpukhov, the Moscow Region. After finishing school in 1977 he entered Shchepkin Theatre School. After graduation Menshikov played in Malyi Theatre of USSR (1981-1982), in the Central Academic Theatre of Soviet Army (1982-1985), and in Ermolova Theatre. His most remarkable theatre works of that time were those of Ganechka in F.M.Dostoevsky's Idiot , Serezha in E.Radzinsky's Sport Scenes of 1981 staged by Valery Fokin, Caligula in A.Camus' same-name play staged by Pyotr Fomenko in Mossovet Theatre.
The actor made his film debut in the fourth year of studies; it was the role of scout Shurka in the television movie I Wait and Hope (Zhdu I nadeus) (1980). Oleg Menshikov became well-known thanks to the popular comedy film The Pokrovsky Gate (1982) (Pokrovskie vorota), directed by Mikhail Kozakov after the play by Leonid Zorin; the actor played a charming post-graduate student named Kostik Romin. His episodic roles in Nikita Mikhalkov's Relatives (Rodnya) (1981) and Roman Balayan's psychological drama Flights in Dreams and in Reality (Polyoty vo sne i nayavu) (1982) were also a success. Among the later films featuring Oleg Menshikov one can single out Stripe of Obstacles (Polosa prepyatstviy) (1984), Through Main Street with an Orchestra (Po glavnoy ulitse s orkestrom), My Favorite Clown (Moy lyubimyy kloun) (1986), Big and Small Volodya (Volodya bolshoy, Volodya malenkiy) (1985), Captain Fracasse (1984), Moonzund (1987), and The Pit (Yama) (1990).
For his work in Stanislav Govorukhin's film Splashes of Champagne (Bryzgi shampanskogo) (1988) Menshikov was awarded A.Dovzhenko Silver Medal. In 1990 Oleg Menshikov had an opportunity to try his wings on the overseas stage and the actor gained world fame with his role of Sergei Yesenin in the international stage production When She Danced . The play was staged in the London Globe Theater under the aegis of Vanessa Redgrave, who played Isadora Duncan. In 1992 Oleg Menshikov got Laurence Olivier Award of the British Academy of Arts for that role. Later he appeared on stage as Ikharev in Nikolay Gogol's The Gamblers.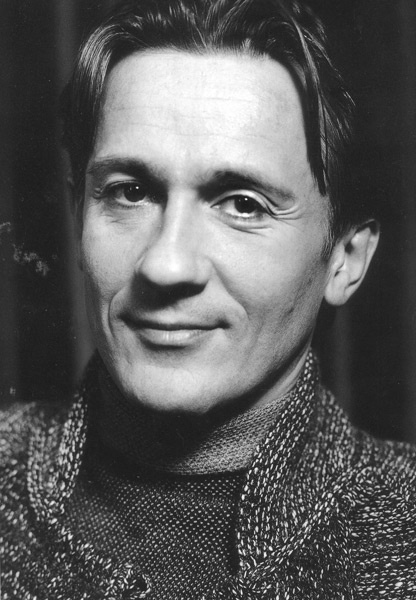 After returning home Oleg Menshikov successfully played the lead in the play Nijinsky (for Bogis Agency), and soon afterwards acted as Andrei Pletnev in Aleksandr Khvan's film Dyuba-Dyuba (1993), written by Pyotr Lutsik and Aleksei Samoryadov and marked with a number of national film prizes. Dyuba-Dyuba put the actor among the leading Russian actors of his generation.
More
here
.