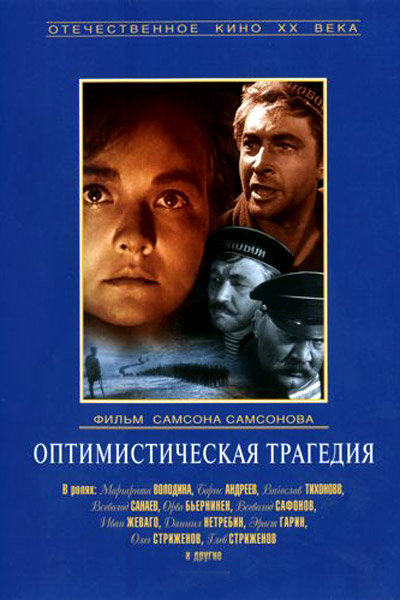 Director: Samson Samsonov
Writers: Samson Samsonov, Vsevolod Vishnevsky (play)
Stars: Margarita Volodina, Boris Andreyev,Vyacheslav Tikhonov
Based on the eponymous play by Vsevolod Vishnevsky and was entered into the 1963 Cannes Film Festival.
Optimistic Tragedy
was a Soviet blockbuster of 1963 with 46 millions tickets sold. The film was named Best Film of the Year and Margarita Volodina was named Best Actress of the Year by readers of the Soviet film magazine Sovetsky Ekran. The film was shot in Sovscope 70 on black and white film stock. The prints were split into three films for exhibition in Kinopanorama 70 in some theatres.
The story about a young woman-commissar at one of the fronts during the Civil War. About strength of mind, courage and will.
Awards : Special Prize Festival de Cannes, France, 1963