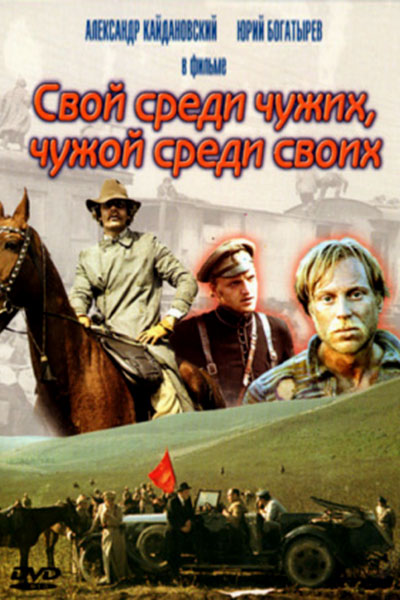 Director: Nikita Mikhalkov
Writers: Nikita Mikhalkov, Eduard Volodarskiy
Stars: Yuri Bogatyryov, Nikita Mikhalkov, Sergey Shakurov
Sarychev, Shilov, Hungurov, Zabellin are soldiers of the Red Army who have become good friends. The civil war has been won but the enemy still hinders the institution of the new soviet country. White counter-revolutionaries and expedition corps do not stop their raids, especially near the border. The evil of war are felt and the country needs bread that can be bought abroad, paying with gold. The regional committee of the party prepares a great charge of gold to be sent to Moscow. Even if escorted by a group of Ceka militiamen (the organization instituted to safeguard the revolutionary power), the train is attacked by the gang of Brylov stealing the gold and kills the militians. Shilov, suspected of treachery, decides to search gold by himself .
First feature film of the director (playing also the role of the head of the outlaws) who keeping an eye on the lesson of America western, overflows with traps, changes, overturnings, romantic energy. The verses of the ballad opening the film and commenting its development are by Natalija Koncaloskaja, Michalkov's mother.
...
Russian films
made in the 1970s which deal with the Civil War (1918-21) there often have qualities which make them resemble American westerns. Nikita Mikhalkov is one of the better-known of the post-Soviet filmmakers; he won an Oscar for his 1994 film Burnt By The Sun. This very popular 1973 film was his first; he was 28 at the time. Svoid sredi... is told in an unconventional manner (especially for Soviet films of the time) reminiscent of the films of Sergio Leone. The story recounts the many exploits of Shilov (Yuri Bogaryrev) who seeks to recapture a stolen gold shipment that belongs to the Red Army. He is suspected of stealing the gold himself, and he seeks to clear his name.