Director: Andrei Zaitsev
Writer: Andrei Zaitsev
Stars: Anton Shagin, Andrey Shibarshin, Alexandra Tyuftey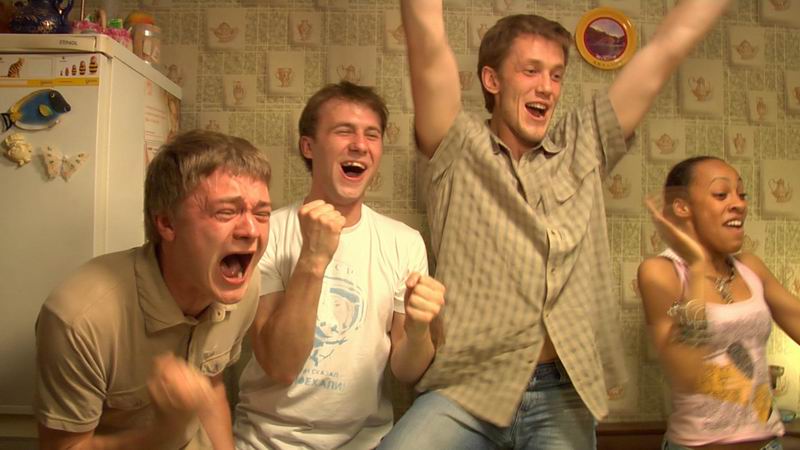 This is the story of a young layabout, who leads a merry and easy life. He strums his guitar, writes songs and gets drunk with his friends layabouts. A common almost routine case of betrayal makes a radical change. A poet is born.
Awards :
Guild of Historians of Cinema and Film Critics Prize Window to Europe Film Festival, Vyborg, Russia, 2011
The Layabouts is the debut feature of documentary filmmaker Andrei Zaitsev critically acclaimed for such shorts as My House (Moi dom, 2000), Gleb (2001) and Viktor Astafiev. The Merry Soldier (Viktor Astaf'ev. Veselyi soldat, 2010). The film's screenplay is based on, or rather inspired by, the early songs of iconic Viktor Tsoi; yet it is neither a biopic—like Todd Haynes' I am not There (2007) or Petr Buslov's Vysotsky. Thank God I'm Alive (Vysotskii. Spasibo chto zhivoi, 2011), nor a musical—like Julie Taymor's Across the Universe (2007), although there is a protagonist impersonating the young rock star (played by Anton Shagin) with the suggestive name Sergei Solov'ev, the director of the cult film ASSA (1987) featuring Viktor Tsoi as well as a massive soundtrack consisting of Kino's songs from their first underground albums 45 (1982) and 46 (1983). In The Layabouts Zaitsev ultimately rejects the shackles of biographical accuracy by boldly replacing Tsoi as a historical figure with the personal image of Tsoi's lyrical hero created in his early songs: the image of an idle and naive romantic fully immersed in the pure and purposeless experience of life as such, beyond good and evil. As Zaitsev comments, that particular sense or state of life's intensity and authenticity is universal: it is experienced by anyone for a short period of time in youth and is expressed most adequately in Tsoi's early lyrics (in contrast to his later, socially critical and political songs). Zaitsev's coming-of-age drama, therefore, is not a homage to Tsoi per se but rather to life itself, which aligns it with a series of other cult movies dedicated to the ecstatic celebration of teen spirit, such as François Truffaut's Jules and Jim (1962), Jean-Luc Godard's Band of Outsiders (1964), Richard Linklater's Dazed and Confused (1993), Bernardo Bertolucci's The Dreamers (2003) or even Marlen Khutsiev's I am Twenty (Mne 20 let, 1964) and Georgii Daneliia's I Walk Around Moscow (Ia shagaiu po Moskve, 1964).
The Layabouts was made in 2008, but had to wait for its release until 2011 due to the economic recession. As a rather typical low-budget "indie" ($300,000), the film could hardly seem commercially appealing to distributors. Its eventual release, however, was facilitated by Viktor Tsoi's approaching 50th anniversary in 2012, which significantly stirred up public interest in his personality (and thus inspired a number of hagiographic documentaries, the Kino tribute concerts, contests on the best monument to the singer, etc.), as well as Anton Shagin's recent celebrity status gained after more mainstream films such as Valerii Todorovskii's Hipsters (Stiliagi, 2008) and Aleksandr Mindadze's Innocent Saturday (V subbotu, 2010), where he played the lead role. Even though The Layabouts won the prize of the Guild of Film Scholars and Film Critics at the "Window to Europe" Film Festival in Vyborg in 2011, not all critics endorsed Zaitsev's experimentation with genre conventions and rock mythology. The film's main paradox, which foregrounds a contemporary teenager writing Tsoi's songs in capitalist Moscow and thus creates a temporal confusion, was taken by some critics (e.g. Lisitsina, Barabanov) as far too artificial and historically perplexing, since the slackers of the 2000s are essentially different from those in the early 80s: the former indulge in idleness because they have everything, while the latter used to do so because they had nothing. And yet, for most critics it is this hybrid superimposition of distinct temporal and spatial orders into a new "alternative present" which is nonetheless fueled by the deep nostalgia for the youth's irretrievable immediacy of life that appears to be the strongest achievement of The Layabouts. For example, at the 13th International Festival of Independent Film "Deboshirfilm: Pure Dreams" the film received a special award precisely for this: "for the most Muscovite Korean St. Petersburg resident Tsoi."
Reviewed by Sergey Toymentsev © 2012 in
KinoKultura