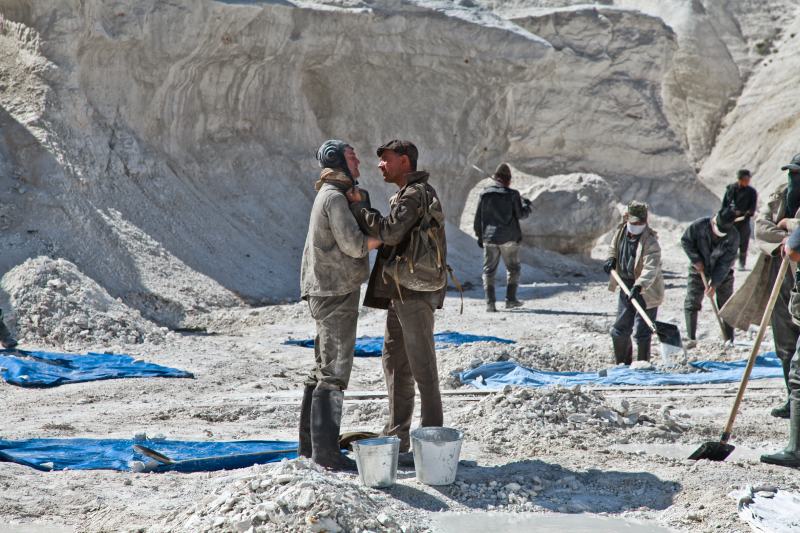 The city of Rome traces its ancestry back more than 3,000 years, to an iron-age village on the Palatine hill, though in terms of the festival calendar the place remains a stripling – overshadowed by venerable Venice and glamorous Cannes and still struggling to find its feet. Fittingly enough, the seventh edition of the Rome film festival opened in a mood of amiable chaos, like a children's birthday party, with the red carpet swaddled in protective plastic and the delegates pinballing wildly about the site, hunting treasure up steps and down walkways.
Inside a chilly, hangar-like theatre, the festival screens Bakhtiar Khudojnazarov's Waiting for the Sea, the official opening-night picture. The doors bang open to admit late arrivals and then bang open again to release those who realise they should be next door, watching something else. The screen shows lunar landscapes, dust-blown settlements, lolloping camels. Egor Beroev plays Marat, a cocksure Kazakh fisherman who returns to his hometown years after a tragedy, only to find that the sea has receded clear out of sight. A wooden jetty now points the way to an endless, undulating desert where the rotting hulls of old vessels sit marooned on the sand. The townsfolk regard Marat as a pariah, a murderer, but he swears he'll make amends and find the crew that he lost. "I'll bring them back," he vows with a swagger. "The sea doesn't kill. It returns what it takes."
Marat's big idea is to first locate his stricken boat and then drag it inch by inch towards the sea – the sort of fool's errand that would make Fitzcarraldo proud. Along the way he is aided by the camels, by a band of long-haul truckers, and by the lissome Tamara (Anastasia Mikulchina), his late wife's sister, who loves Marat even if his heart is full of cinders and even though she's far too slender and dainty to pull a boat across the badlands. Right near the end, just at the point when we think Marat might finally reach the ocean, the door bangs open yet again to admit an elderly official carrying a canister of film. He gawps comically in the gloom, purely astonished to find the festival underway and the whole place full of people.
More here.