Director: Kirill Serebrennikov
Stars: Albina Dzhanabaeva, Dejan Lilic, Svetlana Mamresheva
Kirill Serebrennikov's new film, Betrayal, makes a strong and unexpected impression. Judging by the title we may expect to see yet another melodrama. However, this is far from the truth and the intentions of the filmmaker—although he does count on misleading the viewer and unravels an everyday, domestic story with adultery, which is actually a dramatic parable about betrayal as an invincible and dangerous consequence of an inevitable temptation. If you wish: temptation as a particle of universal sin; not only corporal, but also mental temptation, as the deceived wife seduces the similarly deceived husband, having drawn him into her secret knowledge of her husband's adultery with... his wife. The new partnership between the betrayed spouses is linked through the new, common knowledge, and takes shape from the start through general and joint suffering, which leads to a new coil of the same betrayal. The weakness of human resistance to temptation endows the film with a dramatic and bitter-ironical intonation throughout as it oscillates between drama and farce.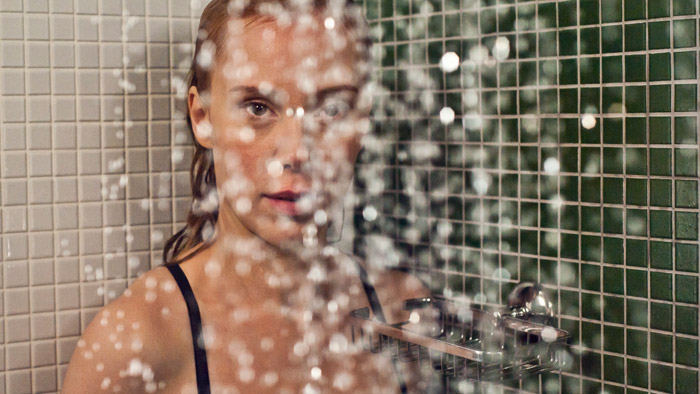 From the pleasure of the betrayal committed in a forbidden and therefore "paradisiacal" territory, in secrecy from others, as they say, "costs them their heads." However, this knowledge of a sin committed behind their backs makes the life of the deceived spouses equally intolerable and similar to hell, provoking them eventually to lose their heads in the sweet, new, joint sin.
The script of Betrayal was written by Serebrennikov in the co-authorship with Natal'ia Nazarova. However, the film strongly differs from everything the director has done previously in cinema. The heat of passion in his film is so insuperably attractive and strong that the film even seems at first like a provocation of the Russian tradition that morally condemns the flaw, a slap in the face of the New Testament that says "it is necessary that temptations come, but woe to the one by whom the temptation comes!" (Matthew 18:7). Looking ahead through the complex action at the film's ending, you understand and feel the inaccuracy of your initial presumption, which leaves you ultimately alone not only with the repeated betrayal in the plot, but also with the new inevitability of a quite mystical.
Reviewed by Olga Surkova © 2013 in KinoKultura