Director: Dmitri Fiks
Writer: Maksim Stishov
Stars: Andrey Sokolov, Ekaterina Strizhenova, Aleksandr Galibin
The White Moor, or Intimate Stores about My Neighbors is a film driven by the romantic intrigues of what director Dmitrii Fiks calls "the top of the middle class." The troubled personal lives of three professionally successful men are examined in an almanac film that is a loose adaptation of Shakespeare's Othello. The three storylines each portray husbands in relative states of impotence: Andrei (Aleksandr Galibin), who cannot obtain a divorce from his wife to marry his mistress; Misha (Andrei Sokolov), who is estranged from his once-cheating wife and lesbian daughter; and Lenia (Igor' Vernik), a closeted homosexual facing increasing pressure from his wife to have another child.
The marital problems of the families are inextricably linked to each respective husband's economic standing, a fact reinforced by the film's mise-en-scène. Almost all important plot developments take place behind the wheel of expensive foreign cars. Whether Andrei is orally pleasured by his mistress, Misha is kicked out by his wife, or Lenia is harassed to produce another child, this is a class of Russians in motion. The film's opening scenes reinforce an obsession with vehicles: Andrei's wife hits and kills a man on a bicycle while she is driving, and Misha's friend, Iura, is injured in a car crash that kills his wife, Ania. It is only in the final scene, moreover, that the three protagonists assemble in the same physical space as their cars weave past one another. If the train contextualized a way of thinking about social advancement in the days of Anna Karenina, The White Moor presents the car as the new symbol of class development.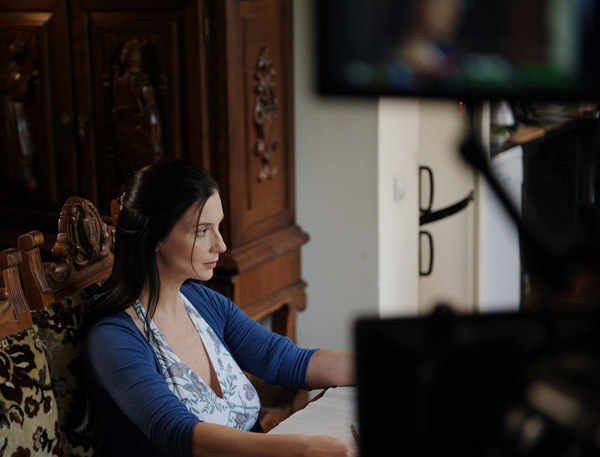 The car, however, is not the sole symbol of mobility in the film. A vacation in Egypt, a business trip to Tver', and a lusty stay in a swanky dacha all reinforce the idea that these are Russians whose interests and conflicts rest on their relationship to the means of production. It is in Tver', for example, on a trip to examine one of his many dental clinics, that Lenia is able to sleep with another man, just as it is at her dacha that his wife, Vika (Zhanna Epple), meets a well-to-do man who will help her conceive, arriving, of course, in his expensive SUV. The intrigue between Andrei and his controlling wife, Natasha (Anna Iakunina), similarly must play out "elsewhere," as Andrei contemplates to what end he will go to free himself from his suffocating relationship.
More
here
.