Director: Gleb Panfilov
Writers: Inna Churikova, Gleb Panfilov,
Stars: Aleksandr Galibin, Lynda Bellingham, Vladimir Grachyov
AWARDS
2000 "Golden Aries" award for Best Production design ( Alexander Boim, Vladimir Gudilin, Anatoly Panfilov)
2001 International Moscow Human Rights Film Festival "Stalker". Directors Guild Award (Gleb Panfilov) 2003 St. Petersburg Governor's prize for cinematic score (Vadim Bibergan)
The idea of making a film about the tragedy of the Tsar's family haunted Panfilov since 1988, when he was shooting an adaptation of Maxim Gorki's novel "Mother" and for the first time laid his eyes on the documents of the Romanovs' case.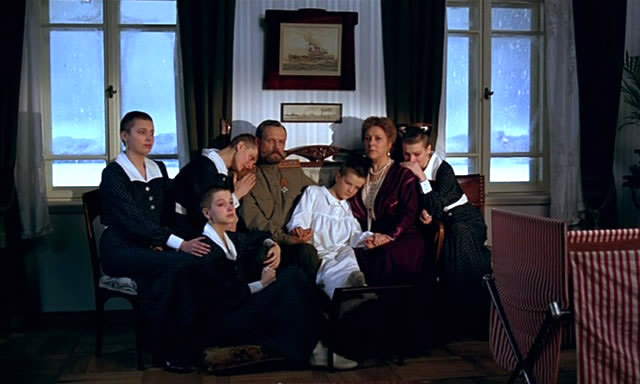 After a lengthy research in the archives, this idea finally developed into a screenplay, written by Gleb Panfilov, Inna Churikova, and Ivan Panfilov in 1990. The shooting began in 1996 and lasted exactly a year. English actress Lynda Bellingham was invited to star as Empress Alexandra, who was, after all, Queen Victoria's favorite granddaughter.
Many scenes were filmed in the Czech Republic, while others were shot on location in former imperial residence in Tsarskoe Selo. The historical details of days long past are recreated in the film with impressive accuracy. In fact, the private study of Tsar Nicholas, recreated exactly as it was before the revolution, was later donated to Ekaterininsky Palace Museum where the film was shot.