Director: Mikheil Chiaureli
Writers: Mikheil Chiaureli, Aleksandr Filimonov,
Stars: Pavel Molchanov, Mikheil Gelovani, Boris Andreyev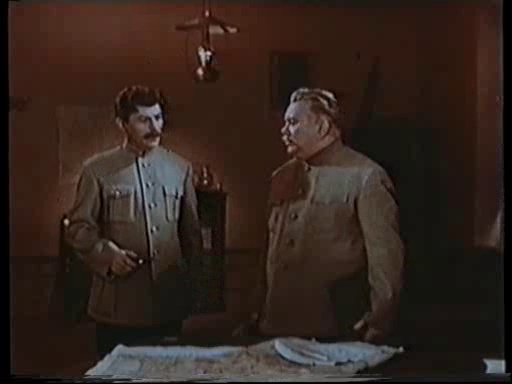 An incredible piece of Chiaureli's work
as (according to the BFI Companion) one of the principal cinematic architects of the Stalin cult of personality. The film, like Love and Hate, takes place in 1919 and tells a civil war story; but unlike that movie, this one is focussed clearly on a particular leading personality in the struggle against the whites: Stalin.
May 1919. The city of Petrograd, the Bolsheviks' stronghold in Russia, is attacked by the counter-revolutionary White Army of General Nikolai Yudenich, who is supported by the imperialist British, and especially by the warmongering Winston Churchill. The city's High Soviet is demoralized and about to order an evacuation, while the White fifth column inside it plots an insurrection. The Krasnaya Gorka fort dispatches a detachment of Baltic Fleet sailors to assist Petrograd, among them is the young Vladimir Shibaev. As the Red Army faces defeat by the Whites, Joseph Stalin arrives on the battlefield, rallies the communists and routes the enemy, saving the city.
...