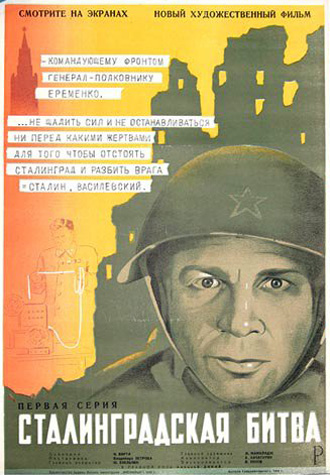 Director: Vladimir Petrov
Writer: Nikolai Virta
Stars: Aleksandr Antonov, Mikhail Astangov, Nikolai Cherkasov
The Battle of Stalingrad ) is a 1949 two-part Soviet epic film about the Battle of Stalingrad .
The movie won the Crystal Globe in the 1949 Karlovy Vary Film Festival.
.
Aleksei Dikiy, who portrayed Stalin, received the 1949 Gottwaldov Film Festival's prize, and director Vladimir Petrov won the Czechoslovak Workers' Film Festival Best Director Award. Petrov, cinematographer Yuri Yekelchik and four actors - Aleksei Dikiy, Nikolai Simonov, Yuri Shumski and Vladimir Gaidarov - were awarded the Stalin Prize at 1950 for their role in the film..
French critic André Bazin wrote that the film portrayed Stalin as a super-human leader, showing him planning the Soviet war effort almost on his own: "Even if we grant Stalin a hyper-Napoleonic military genius... It would be childish to think that events in the Kremlin unfolded as they are seen here." Richard Taylor listed The Battle of Stalingrad as "a personality cult film"..