Director: Yuri Bykov
Stars: Sergey Artsybashev, Pyotr Barancheev, Artyom Bystrov
Awards : Best Screenplay Open Russian Film Festival Kinotavr, Sochi (Russia), 2014
Best actor Artiom BYSTROV , Film Festival Locarno, Locarno (Switzerland), 2014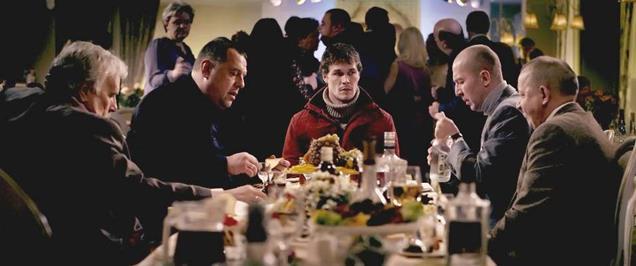 Extremely bleak and depressing even by Russian standards, the third film of writer-director Yury Bykov, The Fool (Durak), is also his best. An explosive combination of highly personal moral drama and a wider, scathing portrait of a country in which corruption and greed seem to be the only shared values left, this well-oiled narrative machine is further aided by a clever ticking-clock mechanism that actually ratchets up the tension the longer the characters' vodka-soaked, blame-game speeches are allowed to go on. This Locarno competition title will undoubtedly be Bykov's biggest hit to date, attracting not only scores of festival invites but also courting interest from boutique art house distributors, possibly on both sides of the Atlantic.
Bykov again wrote, directed and edited the film and also composed the music, though unlike in his second film, the 2013 Cannes Critics' Week hit The Major, the multihyphenate doesn't play one of the protagonists. Instead, he has cast Artem Bystrov in the lead, whose Average Joe countenance hides a startling intensity. Probably not coincidentally, Bystrov was first seen in last year's aggressive male posturing drama Break Loose from esteemed director Alexey Uchitel, who produces here through his company Rock Films.
A Russian plumber, Dima Nikitin (Bystrov), is also a municipal repair-crew chief in an unnamed Russian town that's not even 40 years old, though some of the city's housing blocks are already in a grave state of disrepair. A routine burst bathroom pipe in one of the rickety communal housing buildings unearths a much larger problem, as the exterior wall behind the pipe has cracked and started to shift. When Nikitin goes outside to inspect the matter, he realizes the building has fissured from the ground right up to the ninth and last floor.
Though it's not officially part of his district, Dima's sense of personal responsibility gets the better of him in the middle of the night and he decides to go and talk to the higher-ups, especially after he calculates how much time is left for a construction of that height before it splits in two and crumbles — which turns out to be less than 24 hours.
The knowledge that the 800 or so inhabitants might go down with the building has Dima racing to the 50th birthday party of Nina Galaganova (Nataliya Surkova), the town's imperious mayor, to convince her to evacuate the building. He thus bypasses his direct boss, the corrupt inspector of public housing, Federotov (Boris Nevzorov), who only supplied a coat of paint the last time he received funds for a major overhaul, preferring to funnel the money into work on his daughter's personal residence. Nina's extended, behind-closed-doors meeting with Dima, Federotov and heads of several other departments, including the fire brigade, is the film's nerve center and it soon becomes clear that the worst fears of Dima's wife (Darya Moroz) about the city council's deep-seated dishonesty and corruption are true. The feverish gathering takes place in a meeting room next to the hotel restaurant where Nina's birthday party is still in full swing, with the thumping music filtering into the room like a severe headache that just won't go away.
Surkova is fantastic as the orders-barking mayor who realizes that 800 potential deaths would be a disaster — if she's blamed for it — and who has to also consider the pragmatic difficulties of moving everyone out of the critical damaged building in a city that simply doesn't have anywhere else to put them.
As the assembled try to pass off culpability and increasingly blatant and aggressive accusations fly left and right, the fact that this city council (and, by extension, Russia's ruling class) is rotten to the core becomes painstakingly clear, while each second the officials spend in the room adds tension due to the knowledge that hundreds of unsuspecting souls are facing a potentially lethal situation. (Bykov wisely refrains from cutting back to the building during the meeting except for a single inspection visit.)
Read more >>>
Cineuropa: Are you trying to represent a metaphor for Russian society in Durak (The Fool)?
Yury Bykov: My intention is to show a model of society that is very common in the region in which I was born [Penza, in central Russia]. I grew up in an environment very similar to the one that appears in the movie and so I wanted to create the most accurate portrait possible of what I experienced. I illustrate a wealth of experience that I've acquired throughout my life and that I free through this story. But Russia is a very big country and I'm inclined to believe that Durak is not the full picture, even though it is most of it. Rather than denouncing the evident social disparities I sought to show how the conflict of interests portrayed in the movie develops.
In other words the story you want to tell could take place in many other countries...
It's a story that I believe could happen in any region of the world in which people experience social tensions, obviously by adapting it to each country's particular reality. Many places could easily have been the setting for this story. Whether they be developping regions in Latinamerica or Africa and, in another context, in a large part of China and even the US.
You claim that you don't feel close to modern-day Russian directors but that you do feel close to those of the past. Why?
Because for me the most important thing is being understood and moving the viewer. Many of the current Russian directors are more focused on creating their own cinematograhpic language, on creating a particular ambiance. For me those things are formalities, elements that more related to technology than to emotions. My ambitions as an artist involve connecting with people. In that sense my references include social cinema of the 70s, Sydney Lumet and his Dog Day Afternoon (1975) or Francis Ford Coppola, and Russian cinema of the same era.
Read more >>>