Director: Sergei Bondarchuk
Television director: Fedor Bondarchuk
Cast: Rupert Everett, Delphine Forest, F. Murray Abraham, Ben Gazzara, Lorenzo Amato, Natal'ia Andreichenko, Mikhail Baskov, Aleksandr Bespalis, Sergei Bondarchuk, Alena Bondarchuk
7 episodes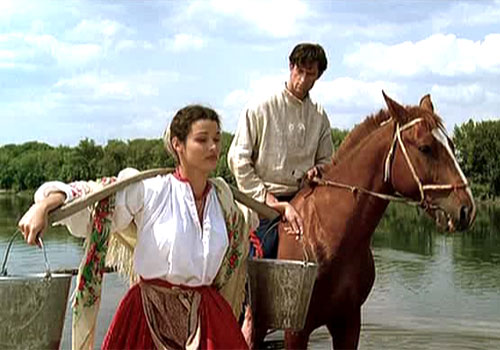 The four-volume Cossack saga that brought Mikhail Sholokhov recognition as a classic of Soviet literature and world-wide fame when it became known in the English-speaking world as And Quiet Flows the Don, caused controversies from the days when its first volume was published in serialized form in 1928. Yet, neither the disputes surrounding Sholokhov's authorship [1] nor his firm integration into the Communist establishment from Stalin to Brezhnev, neither his political kowtowing nor his betrayal of the unwritten writer's code of honor when he rudely attacked dissidents from a Party tribune could seriously harm the status of And Quiet Flows the Don as arguably the most weighty foundation epic of Soviet civilization. And a popular epic it was: its blend of passionate love story and Civil War chronicle appealed to millions of readers, while the author's command of Russian, including his rich array of regionalisms, impressed even skeptical critics.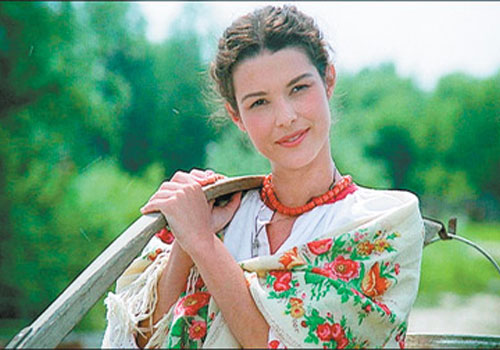 Not surprisingly, Soviet cinema showed an interest in Sholokhov's epic even before it was finished, resulting in a black-and-white adaptation of the first volume in 1930. By the late 1940s, when all four parts were finally completed, plans for a new screen adaptation [2] were aborted, primarily due to the war, but also because of the complexities of the narrative that did not sit well with some hacks in the period of "conflictlessness." It took the managerial skills and muscular direction of Sergei Gerasimov finally to pull off a three-part screen version in 1957/58. That five-and-a-half hour long spectacle seemed to be the non-plus-ultra And Quiet Flows the Don, after which no other cinematic treatment of the novel was necessary or desirable. [3] Yet, at the most unlikely moment, when Soviet civilization was disintegrating and its values and historical legitimacy waning, another attempt was made to transfer the novel both to television and widescreen.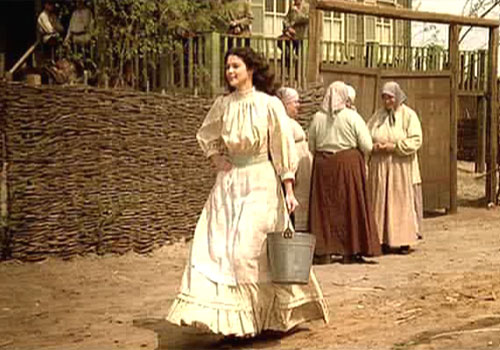 The making of the third And Quiet Flows the Don in 1990-92 and its dramatic aftermath was a veritable saga itself. The director, who had gained world recognition for stemming projects of similar largesse before, encountered one insurmountable obstacle after another. Already in the late 1980s, when Bondarchuk made first steps toward the realization of his long-harbored dream, the atmosphere in the Soviet Union was far from welcoming to such an endeavor. Sholokhov's pedestal, his 1965 Nobel Prize notwithstanding, was no longer unshakeable, and the formerly taboo discussion of his alleged plagiarism of And Quiet Flows the Don began to spill over into perestroika media. Bondarchuk himself was no more untouchable either: the furious ad hominem attacks at the Fifth Filmmakers' Congress in 1986 had left him hurt, cutting down his influence considerably.[3a] On a practical level, his plan simultaneously to helm a twenty-part television mini-series and a full-length feature version of And Quiet Flows the Don for international release seemed too heavy to stem during an increasingly money-conscious period of the Soviet film industry, not to mention how ideologically out of touch it was with its time. But after the lackluster reception of his 1985 adaptation of Boris Godunov, and with Soviet cinema in deepening decline and disorientation, the director was desperate to get a new production moving. Bondarchuk agreed to reduce the television mini-series to ten parts instead of twenty, as well as to casting foreign stars in the lead roles in order to make the film marketable for the West. He, if anybody, had no reason to be frightened of these conditions in light of his experience on the international arena starting in the 1950s, having successfully worked with foreign producers such as Dino de Laurentiis and eliciting first-rate performances from Western stars such as Rod Steiger in Waterloo (1970). In hindsight, however, the enormous risk of putting British and French performers in Cossack garb seems painfully obvious: it is one thing to have an international cast embody, say, Russian urban revolutionaries and intellectuals as in David Lean's Doctor Zhivago (1965), or as members of the cultured 19th-century upper class as in King Vidor's War and Peace (1956), but quite another to entrust Western mimes with roles of peasants in a very peculiar socio-cultural context such as the world of Don Cossacks.
Then, there was bad luck, plain and simple: on the first day of shooting—19 August 1991, the beginning of the attempt by Party hard-liners to remove Gorbachev from power—tanks stopped the crews' cars outside of Moscow. Foreign actors who had been cast for important roles did not show up and had to be replaced within a few days. Finally, after a year of intensive shooting in the Don region and a raw cut executed by Bondarchuk himself. Ever since Iosif Stalin bestowed in 1952 upon Sergei Bondarchuk the highest available honorable title in film and theater, People's Artist of the USSR, at the unprecedented age of 32, his reputation among rank-and-file Soviet viewers and patriotic critics was that of a "movie general" (general ot kino), respected both for his artistic achievements and as a leadership figure. Bondarchuk was perhaps the only international star of Soviet cinema, initially after the world-wide success of Sergei Iutkevich's Othello (1955) and of Bondarchuk's own Fate of a Man (Sud'ba cheloveka, 1959), followed by a lead in Roberto Rossellini's It Was Night in Rome (1960), and topped by directing the seven-hour mega-production of War and Peace (Voina i mir, 1967), for which he won the Oscar for Best Foreign Film in 1968. Bondarchuk embodied a rare combination of enjoying world-wide fame and displaying unconditional loyalty to the Soviet cause, a blend that made him a darling of the USSR establishment. Khrushchev, Furtseva, and later Brezhnev were even willing to forgive him some caprices, such as retaining his sizeable hard currency honorarium for directing Waterloo. Not surprisingly, the liberal intelligentsia disliked Bondarchuk for selling out to the Communist system, especially in the late 1970s, when he agreed to make two propaganda howlers from John Reed's books. At that point, many believed that Bondarchuk had effectively lost his artistic potential as a director, even though a number of first-rate performances as an actor served as reminders of his outstanding talent.
Read more in KinoKultura