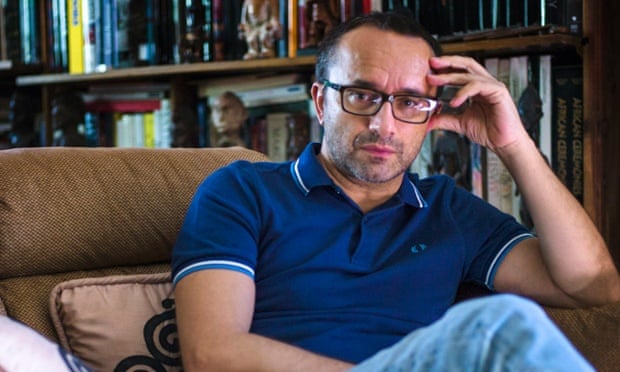 Andrei Zvyagintsev in Colorado Springs on 30 October 2014. Photograph: James Chance/Chance Multimedia
Andrei Zvyagintsev has a reputation for being polite but tight-lipped. Understandably. At Cannes this year, he won an award for the most searing attack on the current Russian political system ever shot. Yet, he said at the time, his aim was "certainly not to confront power". Yes, Leviathan shows ordinary Russians crushed beneath a fiendishly corrupt bureaucracy. But it was inspired by a case in the US, he said, and is intended as a universal parable.
I arrive on a chilly autumn afternoon at the sleek Moscow offices of his producer, expecting more of the same mild-mannered obfuscation. An expression of faint alarm greets me as I'm introduced as the Guardian's Moscow correspondent.
"Oh, so you mainly write about politics?" he asks, somewhat nervously.
But as soon as we start to speak, it's as if a dam has broken. Carefully measured allegory is swapped for blunt straight-talking. He pauses only once in 90 minutes – to take a phone call from a friend whose wife is ill. He uses an iPhone 4, which, by the standards of the Moscow beau monde, is the equivalent of packing an old Nokia brick.
In the days before our meeting, the Russian film board had – to widespread amazement – nominated Leviathan as the national entry for the foreign language Oscar, despite its manifestly not promoting a patriotic agenda, as per government policy. Was he surprised by the move? A soliloquy follows about the difficulty of building a career in modern-day Russia. He speaks quietly, with consideration – and unmistakable anger.
"It's like being in a minefield, this is the feeling you live with here. It's very hard to build any kind of prospects – in life, in your profession, in your career – if you are not plugged in to the values of the system. It's a stupid construction of society, and unfortunately the eternal curse of our territory. The ideas of the rule of law, of equal rights are hardly discussed here. There is discussion in society, but it's pointless. I have a feeling of the absolute futility of pretending to the right to have a say in any situation. I've turned 50 and I've never voted in my life. Because I'm absolutely certain that in our system it's a completely pointless step."
He takes a breath. "So to answer your question: yes, I was pleasantly surprised."
Leviathan is about what an individual can do faced with the might of a monstrous state. Aleksei Serebryakov is Nikolai, a rugged chap who looks like Stuart Pearce after 600 consecutive nights on the vodka. For generations, his family has lived in the same cottage overlooking the sea. The land on which it sits is coveted by the local mayor, an obese, spirits-sodden bandit who, Nikolai suspects, wants to build a luxury mansion on the spot. Using his influence with the local police and courts, the mayor obtains an eviction order and pitifully small compensation payout.
The film opens as Nikolai's appeal is overruled by a judge reading her lengthy verdict in a mindless rapid monotone, a Kafkaesque ritual familiar to anyone who's spent time in a Russian courtroom. He enlists the help of an old Moscow friend, now a hotshot lawyer, and so begins an epic battle in which nobody's motivation turns out to be 100% pure.
The film, which many reckoned to be the best at Cannes this year, is Zvyagintsev's fourth. He spent most of his first 40 years determined to become an actor. Schooldays in Novosibirsk, a Siberian city right in the middle of Russia's vast landmass, were spent "dreaming of theatre, obsessed with it". First came conscription in the Red Army theatre troupe, then he arrived in Moscow in 1986, aged 22, just as Soviet society was on the cusp of enormous change.
Work did not flood in. He spent years cleaning, sweeping leaves and shovelling snow as a dvornik – quintessential Moscow work now largely done by low-paid migrants from Central Asia – devouring books and films in his spare time. "I'd seen Al Pacino in Bobby Deerfield, and I went bonkers. In Russia it was shown in black and white; when I saw the colour version it was a completely different effect. But I saw how he acted and was amazed, I couldn't understand how he was able to do it."
He began to pick up small parts in adverts or trashy soaps. A friend suggested he helped out with directing; his first film was a cheap ad for a furniture salon.
Read more >>>