Director: Nikita Mikhalkov
Cast: Mārtiņš Kalita, Viktoria Solov'eva, Miloš Biković, Anastasia Imamova, Avangard Leont'ev, Sergei Karpov, Aleksandr Adabash'ian, Kirill Boltaev, Aleksandr Michkov, Aleksei Diakin, Vitalii Kishchenko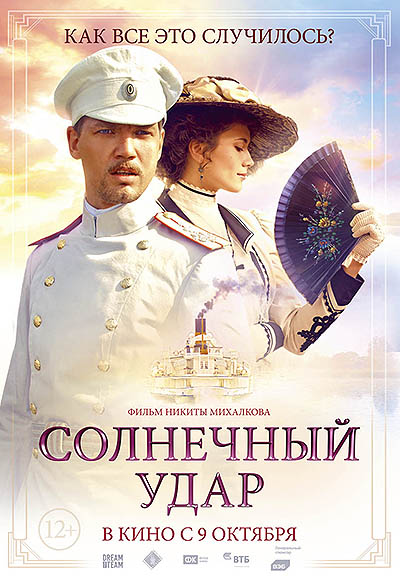 The Russian intelligentsia today loves to hate Nikita Mikhalkov. It is understandable: not only does he get the biggest, juiciest, state-sponsored budgets for his films, but he is too much of a power-broker and a media animal, the "mustachioed bumblebee" with his own idiosyncratic, yet thoroughly conservative TV show in which he seeks to impress his views on the audiences through patriotic (i.e., pro-Putin) sermons, some of which consist entirely of him reading long articles and blog posts that all Internet users interested in the subject had read months before. He calls himself a besogon, which he thinks means "exorcist" or "witch-hunter" but in fact is a slang term for "liar" or "blabbermouth." That he continues to soldier on regardless is entirely up to him, of course. Knowing Mikhalkov's political views is helpful for the understanding of his personality, but artists should be judged on the merits of their art. That's why we are interested in them in the first place. In the case of Mikhalkov, however, art and politics are very hard to tell apart, and his new film is no exception. Warning: spoilers galore.
It should be stated up front that whether you love or abhor Mikhalkov's recent films, they are never boring. Even the much-maligned sequels to Burnt by the Sun: Exodus (Predstoianie, 2010) and Citadel (Tsitadel', 2011) were consistently engaging, with never a dull moment. What seems wrong is the director's turn from chamber dramas at which he excelled to the epic mode of film narration which he just cannot handle. In early Mikhalkov, a small vignette could be more telling than a long story. There is a scene in Five Evenings (Piat' vecherov, 1979), probably his best film, that has a naval officer in a 1958 Moscow restaurant just standing up and smoking by the window. Not a word is said, but one senses drama behind this character. That was intriguing, and imparted depth to a simple story. That was what made Mikhalkov great—an ability to ignite the imagination at a single glance, leaving the viewers hungering for more.
Unfortunately, the latter-day Mikhalkov is exactly the opposite. He still knows how to intrigue the viewer, but he spells out too much, and his films are now bloated where they once were well trimmed and economical. There is no better example than Sunstroke. The eponymous short story by Ivan Bunin, written in emigration in 1925, takes up all of four pages; the film lasts three hours, and an even longer TV serialization is in the works. Bunin's story is light and poetic, the film plodding and pompous. Mikhalkov was not content to stay within the bounds of Bunin's summertime romance, which may have made it into a much more compelling (if modest) film. He went further, imagining the hero, an amorous lieutenant in 1907, thirteen years later, caught up in the murderous Red campaign in the Crimea in November 1920. Bunin's diary, Cursed Days, which Mikhalkov cites as the other source for his film, has little or nothing to do with it; in subject and spirit it is closer to Ivan Shmelev's Sun of the Dead. The "sun" metaphor seems to never leave Mikhalkov. The entire film is constructed as a series of flashbacks (or flash-forwards, if you wish) between the golden sunset of Russia (1907) and its harshest darkness (1920). Instead of jumping to and from, let us look at these two worlds in sequence.
In 1907, the young lieutenant (Mārtiņš Kalita) sails down the Volga on a new steamship full of bells and whistles—the sequence was filmed in Switzerland because presumably there are no such ships left in Russia—when he is struck by the vision of a beautiful young lady (Viktoriia Solov'eva). He is engaged and she is married, with children, but that doesn't stop him from wooing her. It's a sunstroke. The affair falls into several setpieces, including the pursuit of a blue scarf (a reference to a popular pre-revolutionary song and Mikhalkov's own A Slave of Love [Raba liubvi], 1975), some hocus-pocus with the lieutenant's broken and replaced watch, his erroneous disembarkation and triumphal return aboard, and, finally, the consummation of love in a small-town hotel room after the two leave the ship together. Their love-making is accompanied by the heated movement of the ship's pistons and cylinders—any reviewer who has not commented on this Freudian metaphor must be really lazy. In the morning, the Beautiful Stranger—the hero never learns her name—leaves him and the town, with only a brief note and a candy for our hero to remember her by. On a languorous summer day the lieutenant sets out on a quest. This is perhaps the best section of the film, and the closest Nikita Mikhalkov has ever come to magical realism, Russian style. En route, the lieutenant meets and befriends a 12-year-old altar boy who lectures him on the local wonders and asks questions about the mysteries of evolution, while the hero is distracted by his own mystery. After one more improbable adventure including—pay attention!—submersion into water as the boy looks on, he too leaves town, forgetting his new watch. Oh, that watch again. How utterly symbolic is that—historical time is out of joint.
Read more >>>