Andrei Konchalovsky has only just checked in when I meet him, but he has already commandeered the best seat in the lounge of the Connaught, one of London's swankiest hotels. The 76-year-old Russian director, who in the 1980s enjoyed a productive but brief spell in the Hollywood spotlight, is evidently used to getting his own way.
Konchalovsky is here because two Chekhov productions he directed at Moscow's Mossovet theatre – Uncle Vanya and Three Sisters – are about to open in the West End as part of the Anglo-Russian year of culture. This may not be the most propitious moment for such a cultural exchange, but he is unfazed. "It's nothing new for me," he says. "Just a normal tug of war between west and east."
The year of culture is supposed to be about bringing Russia and the UK together, but Konchalovsky doesn't buy the line that art can heal political differences. "It can help politics when politics are ready to be changed," he says. "Not before. Sometimes a film can make a revolution if a revolution is ready to be made." They are, he says, different worlds that operate on different timescales. "Artists are trying to discover what life is about. Politicians already know." Or think they know.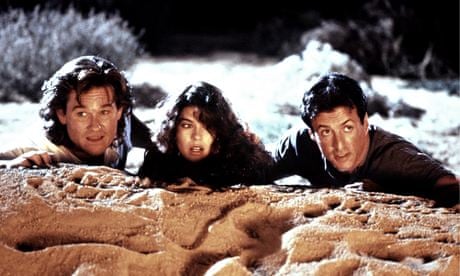 'Tango & Cash (pictured), like every real Hollywood film, is a film for people who cannot read', says its director Andrei Konchalovsky. Photograph: Warner Bros/Sportsphoto/Allstar
Born into a cultured family in 1937 (his father was a writer who penned the Soviet national anthem), Konchalovsky trained as a pianist before embarking on a directing career in the Soviet Union. He collaborated with Russian film giant Andrei Tarkovsky and co-scripted Andrei Rublev – Tarkovsky's 1966 epic about the 15th-century painter, hailed by some as the best arthouse movie ever – before establishing himself as a director in his own right. He then wowed Hollywood with Runaway Train, Duet for One and Shy People, before hitting the buffers at the end of the 1980s with Tango & Cash and Homer and Eddie.
He is one of those rare directors, like Ingmar Bergman and Patrice Chéreau, who moves easily between film, theatre and opera. What does he think the big differences are? "Theatre you can enjoy if you are blind," he says. "Cinema you can enjoy if you are deaf. That's why there were great silent movies. The more I work in theatre and opera, the more I understand how different they are from cinema. That's why I'm doing it. I'm trying to explore something that is completely foreign for film-makers. Critics often write, 'We see Konchalovsky's cinematic vision in theatre.' It's ridiculous, it's rubbish. You express yourself completely differently." In opera, at least, you can express yourself more cinematically, I suggest. "No," he says emphatically. "Opera is much closer to circus than to cinema."
The cosmopolitan, much-married Konchalovsky (his fifth wife, actor and TV presenter Julia Vysotskaya, stars in his two Russian-language Chekhov productions) has a talent for aphorisms, even in what must be his third language after Russian and French. He stresses his European-ness, unlike his younger brother and fellow director Nikita Mikhalkov, whose 1994 film Burnt By the Sun, about a Red Army officer caught up in Stalin's Great Purge, won the foreign language Oscar. Mikhalkov is overtly political, a Russian nationalist and a strong supporter of Putin, while Konchalovsky is a natural rebel, a believer in art for art's sake.
"The basis for all my activities is curiosity," he says, adding that he has just shot a film "for myself without money" and found he was still learning. "Only now do I start to understand a little more about film-making. Only when you start to work for yourself, and in solitude, do you learn certain secrets. Otherwise you have to fulfil expectations." He is dismissive of commercial movie-making. "The market moves towards entertainment, but art is closer to contemplation."
Read more >>>