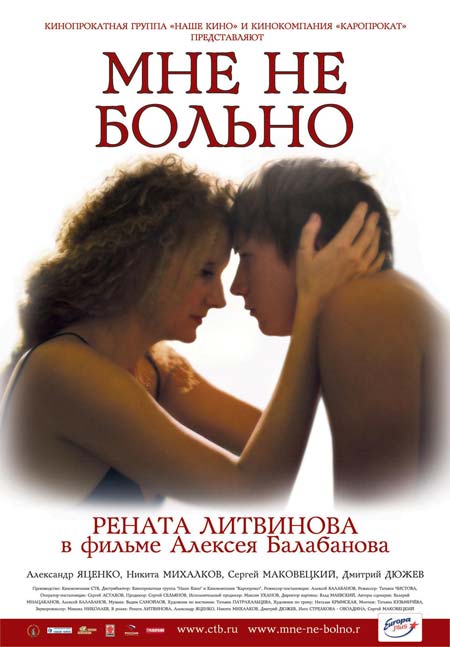 Directors: Aleksey Balabanov, Tania Khodakivska
Writer: Valeri Mnatsakanov
Stars: Renata Litvinova, Aleksandr Yatsenko, Dmitriy Dyuzhev
Awards :
Best actress Renata LITVINOVA , Open Russian Film Festival Kinotavr, Sochi (Russia), 2006
Best actor Yuri YATSENKO , Open Russian Film Festival Kinotavr, Sochi (Russia), 2006
Audience Award Window to Europe Film Festival, Vyborg, Vyborg (Russia), 2006
Aleksei Balabanov is one of the post-Soviet filmmakers who like to experiment with different genres and themes in his films. He has become widely popular among Russian audiences since his blockbuster Brother (Brat) was released in 1997. His first films were documentaries: Egor and Nastia (1989) and From the History of Aerostatics in Russia (O vozdushnom letanii v Rossii, 1990). Subsequently he adapted for the screen Samuel Beckett's play Happy Days (Schastlivye dni, 1991) and Franz Kafka's novel The Castle (Zamok, 1994). Balabanov's films belong to a wide spectrum of different genres: from art-house films such as Of Freaks and Men (Pro urodov i liudei, 1998) to action films like Brother and Brother 2 (Brat 2, 2000), from his war film War (Voina, 2002) to the black comedy Blind Man's Bluff (Zhmurki, 2005). The range of themes in his films is also wide: from the origin of pornography in pre-revolutionary Russia to the war in Chechnia, from Russian "patriotism" and fraternity to Tarantino-like stories about the everyday life of Russian gangsters.
In one of his interviews, he explained that Russian audiences are not interested anymore in art-house or "marginal" cinema, which is why he decided to make films for the masses—films that people want to see in the theater (Savel'ev). Beginning with Brother, he has proven that he can successfully achieve this goal. In an interview published in Nevskoe vremia in 1998, Balabanov assured readers that he would never make a melodrama because it would be difficult for him to write a script that would make everyone cry (Pozniak). Seven years later, however, he has changed his mind and, relying on the intuition that helped him direct such hits as the Brother films, he has created his new masterpiece—a melodrama that appeals to the emotions of many Russian viewers. [1]
Balabanov did not write the screenplay for this film; instead he used a script written by Valerii Mnatsakanov in the 1990s. [2] In It Doesn't Hurt, he intertwines two story lines: a representation of the consequences of market economy after the collapse of the Soviet Union and the story of a relationship with a terminally ill person. Igor' Mantsov claims that Balabanov plays with popular clichés peculiar to the contemporary mass consciousness that has been affected by Western culture (Mantsov).[3] Whether this is true or not, It Doesn't Hurt manages to grab the majority of audiences through its use of occasional jokes and comic situations, as well as the lachrymose music by Vadim Samoilov and performances by popular Russian actors.
addition to professional actors and actresses, Balabanov invited a few people from the Russian cultural beau monde for cameo roles in the film. This is not a new production strategy for him: he filmed Viacheslav Butusov, leader of a popular rock band, Nautilus Pompilius, in an episode in Brother, and famous pop-singer Irina Saltykova in Brother 2. In It Doesn't Hurt, filmmaker Dmitrii Meskhiev and TV stars Kirill Nabutov and Sergei Sholokhov appear on screen for a few minutes in the reception scene. The former producer of the Kinotavr Film Festival, Mark Rudenshtein, has a cameo role as Zibel'man―one of the clients of the central group of characters. Thus, It Doesn't Hurt is full of famous actors and showmen, even if not to the same extent as Blind Man's Bluff.
In the first storyline of It Doesn't Hurt, three young opportunists—Misha, Oleg, and Alia—decide to start their own business: to open an interior design bureau in St. Petersburg. The idea of making money is not new for post-Soviet cinema; the "rags-to-riches" transformation has been represented in Pavel Lungin's Tycoon (Oligarkh, 2002), Aleksei Sidorov's TV mini-series The Brigade (Brigada, 2002), and Balabanov's own Blind Man's Bluff. The second storyline is about Natella Antonovna, or Tata (Renata Litvinova), a 27 year-old young woman who is dying from blood cancer and who is financially supported by Sergei Sergeevich (Nikita Mikhalkov). She is well taken care of by him and he does not require any sexual favors from her in return; he just needs to have a place where he can relax and where he can be loved and appreciated. Tata becomes Misha, Oleg, and Alia's first client and their "lucky coin" because she begins to advertise their interior design bureau amongst her numerous acquaintances. Misha and Tata fall in love, and Tata leaves Sergei Sergeevich with his big apartment in the center of St. Petersburg, good food, and the medicine that can prolong her life. She chooses freedom, alcohol, and fun over life in a gilded cage and, as in its American counterparts, dies at the end of the film.
Like many of Balabanov's previous films, It Doesn't Hurt is set in St. Petersburg. Cameraman Sergei Astakhov (who did not work with Balabanov on Blind Man's Bluff) returns with his gloomy colors for the sets, long shots of the city, dark stairways of old apartment buildings, and crowded streets. Most of the events in It Doesn't Hurt take place inside buildings. One of the working titles of the film was Reconstruction (Remont), and for the settings, Balabanov uses a number of apartments of wealthy people who have done some major home improvements. Unlike the young architects' apartment, which is old and dark, has scuffed walls and homeless people living one floor up in the attic, the apartments of the rich elite of St. Petersburg are full of light and the walls are painted white—the color of aristocrats. The white stairs to the second floor of these apartments and the white columns both in Tata's apartment and in the hall at the reception organize space vertically, alluding to the existence of social strata.
Read more in KinoKultura