Director: Aleksei German Jr.
Cast: Louis Franck, Merab Ninidze, Viktoria Korotkova, Chulpan Khamatova, Viktor Bugakov, Karim Pakachakov, Konstantin Zeliger, Anastasiia Melnikova, Piotr Gasowski
Awards : Silver Bear Berlin International Film Festival : Berlinale, Berlin (Germany), 2015
Aleksei German Jr.'s Under Electric Clouds is a highly impressionistic existentialist drama on the theme of the "superfluous men" inhabiting the futuristic Russia of 2017. As German points out in interviews, the choice of such an emblematic year (i.e. the 100th anniversary of the Bolshevik Revolution) was somewhat accidental, since originally the intention was to capture the image of contemporary life in Russia from the distance of a near future. "In order to speak about time," the director explains, "one has to look at it from a little distance, because everything is changing" (Kostin 2015). The film's production, launched in 2010, was initially scheduled for completion in 2012. But because of a series of delays due to financial problems as well as Aleksei Iu. German's death which required the director to complete his father's Hard to Be a God (Trudno byt' bogom), the production extended to 2015, thus making the year 2017 a futuristic vantage point for exploring Russia's present condition. As many critics were quick to notice, German's Russia is not a place where one would want to live: a foggy, vast, barren, post-apocalyptic wasteland frozen in melancholic inertia and traversed by somnambulically wandering people amidst damaged gigantic statues and abandoned construction sites. The gloomy sky, heavily laden with dark clouds, serves as the surface for the projection of electronic advertisements. As a voice-over narrator tells us in the beginning, "everyone seems to be waiting for a great war, globalization failed to unify the world." The anxious anticipation of a war permeates the entire atmosphere of the film, whether through impersonal voices speculating about a coming catastrophe or the dim drone of passing military trucks at night. Given that Under Electric Clouds is a Russian-Ukrainian-Polish co-production conceived long before the current Russia-Ukraine conflict, the film's prophetic forecast seems particularly uncanny.
The film consists of seven interconnected chapters centered around an unfinished skyscraper, whose ghostly helix-shaped skeleton looms in the foggy distance above a desolate winter landscape. This spectacular architectural wonder was commissioned by a now disgraced oligarch whose recent death has caused a halt in its construction. Each of the protagonists in German's carefully designed tableau is, in one way or another, related to the obscure destiny of this building. The film opens with the story about Karim, a Kyrgyz migrant worker (Karim Pakachakov), who used to work at the skyscraper construction site but now wanders around in search for a place to rest. Unable to speak a word in Russian, he cannot communicate with others yet desperately tries to get directions for an electronic repair store to fix the broken boom-box which he carries around. Eventually he lays himself on a windblown beach, covering up with a large plastic tarp to protect himself from cold, yet is awaken soon by a violent man brutally stabbing a woman (earlier in the film the viewer may learn from the barely distinct, impersonal chatter that there is a serial killer terrorizing the neighborhood). Karim overpowers the murderer, crushing his scull against the frozen ground, yet is too late to save the bleeding victim, with whom he lies down afterwards and holds her hand to soothe her agony. The novella ends with Karim painfully managing to pronounce his first words in Russian ("How can I get to an electronics repair store?"), with the help of some passerby who happens to be kind enough to understand the supplications of a poor immigrant, which symbolically dramatizes his social inclusion into the foreign environment.
The next chapter introduces the two adult children of the deceased oligarch, Sasha (Viktoria Korotkova) and Dania (Viktor Bugakov), who have come from abroad to deal with their father's heritage. With just a few details, German provides a rather succinct characterization of both siblings: Dania is a soft airheaded hipster fantasizing about establishing a literary fellowship for young writers, while Sasha, with a hearing aid behind her ear and occasional nose bleeding, is emphatically sensitive and fragile yet spiritually strong and wise. Pressured by an FSB officer investigating the oligarch's criminal past, and their uncle Boria, anxiously persuading her to sell the estate, Sasha nevertheless decides to stay in Russia and take care of her father's legacy, including the abandoned skyscraper, with which she strangely falls in love by comparing its twisted structure with human lives, "also broken yet standing."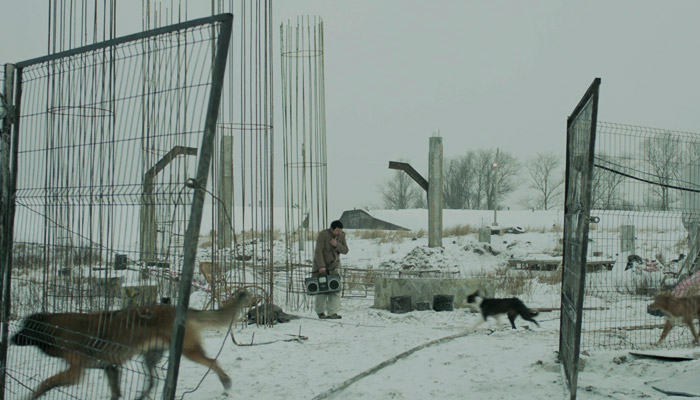 The third episode centers on Marat, a real estate lawyer (Konstantin Zeliger), who helped the oligarch obtain the land for the skyscraper. He is haunted by a recurrent dream which transports us to the final days of the Soviet Union before its collapse, suggested by Gorbachev's resignation speech on television (26 December 1991). Marat wanders about the oneiric city of his childhood, where he meets the ghost of his best friend who was murdered for no reason in 1995. The ghost is grateful to Marat for his nostalgic dreams since he is the only one who still remembers him. This story strongly resonates with German's short From Tokyo (2011) about a former rescue worker returning home from Tokyo on a plane and having a conversation with the ghost of his wife who died long ago. Given that both characters are exceptionally righteous men, it would be safe to suggest that memory, represented as the melancholic attachment to the beloved of the past, plays a definitively ethical role in German's films: to live a life as a morally upright person one has to exist both in the present and the past at the same time. According to German, it is precisely by preserving memories of the past in our present lives that we can adhere to what can be called a moral code. Such a moral standard based on memory could also be applicable to the director himself, since all his previous features are essentially about the past.
Read more in
KinoKultura