Director: Andrei Zaitsev
Screenplay: Andrei Zaitsev
Cast: Gleb Kaliuzhnyi, Ul'iana Vaskovich, Ol'ga Ozollapinia
Andrei Zaitsev's feature film, 14+, opens boldly with a phantasmagoric montage of multicolored khrushchevkas, congested city streets and local trains. Aleksei Sulima's rendition of Adriano Celentano's classic, "Ciao Ragazzi," blares over these images, making Moscow's urban outskirts seem not at all depressing, but cheerful and full of hidden potential. This opening effectively establishes the film's tone, which is nostalgic and idealistic, with hints of self-conscious irony. 14+ represents Zaitsev's second attempt at a coming-of-age story. His previous feature, The Layabouts (Bezdel'niki, 2011), was loosely based on the life of Kino frontman Viktor Tsoi and focused on young rock stars' experiences with love. 14+ tells the story of first love between two ordinary teens, Alesha and Vika, who come together despite belonging to rivaling schools. In this film, Zaitsev is interested in not only retelling the age-old tale of mismatched young lovers, but also commenting on how teens experience romantic love in the age of social networks. In addition, the film is about adolescent friendship and interactions between single mothers and their sons in contemporary Russia. Compared to such recent films as Emir Baigazin's Harmony Lessons (Uroki garmonii, 2013) and Myroslav Slaboshpytskiy's The Tribe (Plemya, 2014), 14+ presents a relatively wholesome and optimistic view of youth, putting forward a new "positive hero." Unfortunately, in constructing this hero, Zaitsev leans too heavily on Western adolescent-comedy tropes, producing a film that rehashes the male fantasy of a nerdy boy who gets the beautiful girl.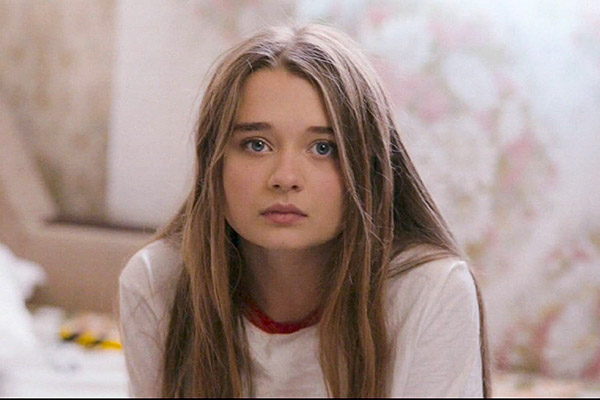 One of the interesting features of 14+ is its relationship to the earlier Russian film about a fresh-faced and awkward youth, Aleksei Balabanov's Brother (Brat 1997). Zaitsev creates this connection in the opening credits, placing the movie poster of Brother in the background of the shot. The poster belongs to Alesha, who loves the now classic film and looks up to its anti-hero, Danila Bagrov. Like Alesha, who idolizes Danila without imitating him, Zaitsev pays homage to Balabanov's film without appropriating its detached tone and graphic violence. Similarly to Brother, 14+ features amateur actors who turn in naturalistic performances. While Balabanov took advantage of Sergei Bodrov Jr.'s appeal as an unseasoned actor, Zaitsev went as far as to find his leading actors (Gleb Kaliuzhnyi and Ul'iana Vaskovich) through the social networking site Vkontakte. Danila and Alesha are products of similar socio-economic circumstances, despite growing up in different eras. Both are young men who lack positive father figures, but who respond to this absence in strikingly different ways. Danila, a former soldier, is a socially awkward but frighteningly competent killer with a consistent but unconventional moral framework. Alesha acts out in much more typical, non-violent ways. He is non-threatening and capable of maintaining stable friendships, as well as making new friends, despite lacking social graces. While Danila doesn't hesitate to use force against his enemies or to approach romantic interests, Alesha obsessively ponders his choices, avoiding confrontations with bullies and with the object of his crush. The question of whether Alesha will one day become "a Danila" hangs over the film, and Zaitsev raises it in playful ways, particularly at the end of the film. However, for the most part, 14+ makes clear that Brother is the gangster fantasy of this ordinary hero and not a blueprint for his behavior.
While it is refreshing to see an incorruptible young hero in a Russian film, it is also a shame that, as a character, Alesha lacks Danila's enigma and unpredictability. Zaitsev's hero and story follow too many of the conventions of coming-of-age dramas and adolescent comedies. In addition to having an absent father, Alesha is also unlucky enough to grow up with an overbearing but ineffectual mother. School fails to engage him, but that is only because his teachers are out of touch, abusive or even drunk on the job. The bullies from Vika's school threaten his safety but he earns their respect with cleverness instead of violence. Alesha even manages to bring together the nerds and the "Queen Bees," thus proving that cool girls would rather hang out with geeks than neighborhood bullies. Those who are familiar with such American films as Can't Buy Me Love (1987, dir. Steve Rash), Fast Times at Ridgemont High (1982, dir. Amy Heckerling) or Superbad (2007, dir. Greg Mottola), will have no trouble predicting the plot of 14+. Zaitsev incorporates the tropes made famous by these American classics into a stylish and earnest film, but does not go so far as too subvert them.
Read more
>>>